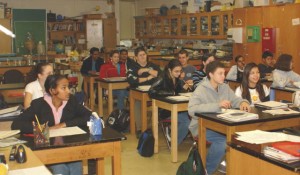 When I first started teaching in Australia, I had a Korean-Australian student in one of my undergraduate classes who sounded like most of the other students in my class, like a native speaker of Australian-English. The daughter of Korean immigrants, she had been born in Australia but had grown up leading a transnational life with frequent moves back and forth between Australia and Korea. At home she spoke Korean with her family and at school she spoke English. In Australia she had attended mainstream schools in English and when they had been in Korea she didn't go to school at all or attended international schools with English as the medium of instruction. The perfect way to raise a bilingual child, you might think. I thought so until I saw her first written assignment. Her academic literacy was oddly different from that of all the other students: in comparison to the native speakers (with whom I'd mentally categorized her on the basis of her spoken English), her grammar was shaky, and in comparison to the overseas ESL students her register vacillated between extreme formality and informality, and all shades of style in between. She also had trouble formulating a coherent argument, which is not that uncommon, but which was surprising on the basis of her oral performance.
I've since come to recognize bilingual students with high levels of oracy but low levels of (academic) literacy as a distinct subgroup among my students as I encounter one or two of them in almost every class I teach. I was reminded of that bilingual student and all my other students with a similar linguistic profile, when I read Kate Menken and Tatyana Kleyn's paper about long-term English language learners (LTELLs). According to the authors, LTELLs comprise one-third of the ELL population in high schools in New York City. LTELLs are defined as having attended school in the USA for seven or more years and still requiring language support.
Although […] LTELLs are orally proficient for social purposes in English and their native language, their skills in these languages are several grade levels below in reading and writing, resulting in poor overall academic performance. (p. 403)
Despite the fact that the numbers of LTELLs in NYC schools are substantial, they do not receive any specialized services, and the services they receive are mismatched. For ESL support they are usually placed in the same class as new arrivals with limited or no oral proficiency in English. As a consequence, their ESL support is way below their level, they get bored and they disengage. For Spanish on the other hand (most of the LTELLs Menken & Kleyn interviewed were English-Spanish bilinguals), they are either placed in Spanish-as-a-Foreign-Language classes (too easy again) or in Spanish enrichment classes with new arrivals who have received prior education in Spanish and whose Spanish is much more proficient. In this scenario, too, the LTELLs disengage, this time because the class is far too difficult for them.
Because of their high levels of oral proficiency, these students are often misjudged and their need for reading and writing support is overlooked. However, their low literacy in English results in poor academic performance overall. The high school average of the LTELLs in Menken & Kleyn's study was a D+, and almost 20% had an F average. Failure breeds failure and many LTELLs drop out of school altogether.
LTELLs develop in a context of subtractive schooling where there is a lack of support for writing development in their home language and a sink-or-swim attitude to English learning. In such a scenario one language "subtracts" from the other and neither develops sufficiently.
As Kimie and I are finalizing the special issue devoted to "Language and Social Inclusion" which we are guest-editing for the International Journal of Bilingual Education and Bilingualism, we've been thinking about the many ways in which institutions, including educational institutions, conspire to exclude linguistically diverse populations rather than promoting their inclusion. LTELLs are a case in point: schools fail these students by failing to address their specialized language learning needs. Surely bilingual children deserve better then receiving an education that turns them first into LTELLs, and then poor students, and then drop-outs, and ultimately excludes them permanently from the mainstream.
Menken, K., & Kleyn, T. (2010). The long-term impact of subtractive schooling in the educational experiences of secondary English language learners International Journal of Bilingual Education and Bilingualism, 13 (4), 399-417 DOI: 10.1080/13670050903370143