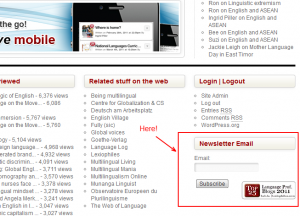 We are phasing out our manual e-mail newsletter. There are now these easy ways to stay in touch and to keep abreast of what's happening at Language on the move.
– Facebook
– Twitter
– RSS feed
– Sign up for our automated e-mail newsletter: Simply provide your email address in the "Newsletter Email" box in the bottom-right corner of our homepage, and you will receive an e-mail after every 10 new blog posts. See the image to spot where the "Newsletter Email" box is.
And of course you can always contakuto us with any queries.