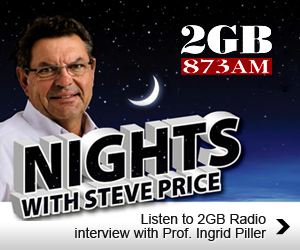 Last weekend the Australian government released its white paper Australia in the Asian Century. One of its recommendations is that "All Australian students will have the opportunity, and be encouraged, to undertake a continuous course of study in an Asian language throughout their years of schooling."
Meanwhile, the Australian public continues to be largely unconvinced that language learning for everyone is a good idea – many remain skeptical of the feasibility or even the desirability of universal language learning. Talk-back radio is one of the media were this skepticism finds a particularly strong voice. Sydney's 2GB devoted much of Monday evening to questions of language learning: is it feasible for all Australian kids to learn a language other than English? If so, which language should it be? Is there any point in learning another language seeing that everyone else wants to learn English? Does foreign language learning detract from English language learning?
Ingrid Piller joined the debate on the Steve Price show and you can listen to her passionate argument for taking languages seriously by clicking on the 'play' button above: as the rest of the world is becoming bi- and multilingual, Australian kids are missing out until we get serious about improving language education in this country.