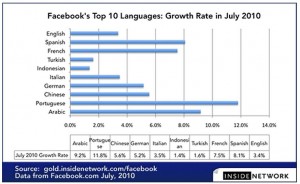 The social networking market research site Inside Facebook has some intriguing language stats. In July, the fastest-growing languages on Facebook were Portuguese, Arabic, Spanish and French. The Portuguese growth rate was a staggering 11.8%. Arabic grew by 9.2%, Spanish by 8.1% and French by 7.5%. With growth rates of 5.6%, 5.2% and 3.5% respectively, Chinese, German and Italian were also growing faster than English with 3.4%. Turkish (1.6%) and Indonesian (1.4%) also made it into the 10 fastest-growing languages on Facebook. These 10 fastest-growing languages are the same as the most frequently used languages on Facebook – although the ranking among the top 10 Facebook languages is quite different. In terms of the most frequently used languages on Facebook, English tops the list by a wide margin with 52% of all Facebook users setting their language to English. Spanish comes a distant second with 15%, followed by French (5.7%), Turkish (5.3%), Indonesian (5.0%), Italian (3.9%), German (2.7%), Chinese (2.3%), Portuguese (1.4%) and Arabic (0.8%). Even with their high growth rates, it will obviously be a while before Portuguese and Arabic make it into the top 5.
Intriguing as those numbers are – who can resist pouring over a score-board? – they actually hide the multilingual practices of social networking as much as they reveal it! The numbers are evidence of a multilingual world but they suggest a multilingual world of discrete languages. The count itself is based on users' language settings. As a Facebook user, you can set your language to only one language at a time. Mine is set to English because that's the default setting for someone based in Australia and I couldn't be bothered to change it. However, the language of your settings doesn't actually say much about the languages in which you actually interact. My news feed regularly includes updates not only in English but also العربية, Boarisch, 中文, Nederlands, 日本語, Deutsch, Bahasa Indonesia, 한국의, Português, فارسی, Español, Schwyzerdütsch, Français, Tagalog and Türk. If you become a fan, you will find that the Facebook wall of Language-on-the-Move is pretty multilingual, too 😉
When I write on Facebook myself, I like to follow urban etiquette and use formulae ("Congratulations," "Thank you," "Well done," "Way to go" etc.) in the preferred language of my addressee. Sometimes that language choice is conventional ("native language" of the interlocutor), often it isn't.
I love the comfortable language mixing I engage in on Facebook. It is good fun. However, it is more than that. It also challenges conventional notions of multilingualism as a combination of two or more monolingualisms. Where sociolinguists of multilingualism have started to question the language ideological strategy which tries to overcome the monolingual mindset by enumerating languages (see Otsuji & Pennycook, 2010, for a useful overview), Facebookers practice diversity – a diversity that is not a matter of quantity but a matter of quality!
Oh, and if you were wondering whether I can actually read all the languages I listed above as appearing in my Facebook news feed, the answer is, "I wish!" However, you don't have to be a multilingual wunderkind to enjoy Multilingualism 2.0! Google Chrome offers a nice little extension, Social Translate:
The Social Translate chrome extension automatically translates event streams and friends' comments on social network sites.  A user selects a primary language in the Options settings panel.  Then when the user visits a social network site such as Facebook or Twitter, the Social Translate extension will use Google Translate to detect the language of the event stream (or comments) and then translate the text to the user's primary language.  The extension displays the Social Translate icon beside the translated text.  Click the icon that appears in the navigation bar to see the text in the original language.

Event streams or comments in the primary language should not be translated.  A user can also set multiple secondary languages in the Options settings.  Event streams or comments in these languages will also not be translated.  This is useful for users that read multiple languages and who would like to be able to see non-translated content that is posted in other languages.
Otsuji, E., & Pennycook, A. (2010). Metrolingualism: fixity, fluidity and language in flux International Journal of Multilingualism, 7 (3), 240-254 DOI: 10.1080/14790710903414331