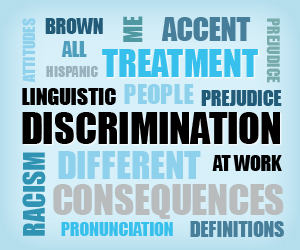 Deborah Cameron noted in 1995 that "linguistic bigotry is among the last publicly expressible prejudices left to members of the Western intelligentsia." In the same vein, one could point out that linguistic discrimination is among the last legal forms of discrimination left to Western employers. A German court recently ruled that an employer's repeated criticisms of an employee's German proficiency does not constitute a form of discrimination.
An internet portal for German lawyers reports that a woman from Croatia, a long-term resident of Germany, who has for many years worked as a cleaner for a public swimming pool, sued her employer because the employer had over a number of years repeatedly pressured her to attend German classes because they blamed her for "repeated communication problems with colleagues, supervisors and customers." The court ruled that such pressure did not constitute discrimination as the comments were not motivated by a background characteristic of the plaintiff but by her lack of linguistic competence and the court added that the plaintiff should "give up her resistance to the language of the country."
The case doesn't seem to have been reported widely in the media but comments on one such report seem to mostly see the ruling as an expression of common sense: commentators there argue that if she doesn't speak German, she should learn it; and anyways she should consider herself lucky to have a job! The court, too, seems to have based their judgment more on "common sense" than linguistic expertise. While I don't have any information about the case beyond the media report, and I don't know anything about the specific circumstances of the case, I do wonder whether the court considered any of the following:
A person's linguistic repertoire is a relatively stable trait; language proficiency often fossilizes at a particular level and progress beyond that level can be very difficult; the ability to learn new languages generally decreases with age, and many other factors such as aptitude or opportunity may conspire to make improving language proficiency near impossible. It's entirely possible that a full-time cleaner, an older worker who, according to the report, also suffers from severe health problems, and who is as likely as any woman to have to work a "second shift" at home, just does not have any time nor the energy left to devote to language classes.
And why should she? The next question is whether her work involves any language work? I.e. is any part of her work of a linguistic nature? If she is not (partly) remunerated for using language, her linguistic proficiency is of no concern to her employer. As far as I know, swimming pool cleaning doesn't involve much talking or writing. Imagine an employer pressured an overweight office worker to take fitness classes – would "common sense" also dictate that the employee is not being harassed? Boutet (2008) provides a great overview of the role of language in various types of work.
What expertise do both the employer and the court have to determine the plaintiff's level of language proficiency? Probably none and the report does not indicate that any expert testimony was sought. As I've said before, assessment of the linguistic proficiency of second language speakers somehow is a free-for-all.
When misunderstandings occur in communication, it's rarely only the fault of one person – that's why speakers and listeners usually share the communicative burden. However, we also know from studies such as Lindemann (2002) that, as soon as native and non-native speakers are involved, native speakers oftentimes opt out of sharing the communicative burden and place the responsibility for ensuring communicative success exclusively on the shoulders of non-native speakers. A double whammy! So, it's not only the level of linguistic proficiency of the non-native speaker that causes problems, it's also that native speakers refuse to tango … yet, the employer most likely would never have dreamt of advising the plaintiff's colleagues to undergo intercultural communication and awareness training.
The most comprehensive resource on linguistic discrimination at work continues to be Rosina Lippi-Green's 1997 book English with an accent. Next week's 4th International Seminar Series of the AILA Research Network "Language and Migration" is held in Fribourg, Switzerland, and devoted to Language, Migration and Labor. Linguistic discrimination is likely to figure prominently!
Boutet, Josiane (2008). La vie verbale au travail: Des manufactures aux centres d'appels [Language at work: from manufacturing to call centers] Paris: Octares
LINDEMANN, S. (2002). Listening with an attitude: A model of native-speaker comprehension of non-native speakers in the United States Language in Society, 31 (03) DOI: 10.1017/S0047404502020286