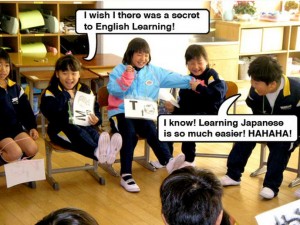 Some Language-on-the-Movers based here in Sydney had the opportunity to attend Professor Masaki Oda's lecture about the current state of the English language in Japan yesterday. With major Japanese companies announcing a switch to English as their official company language only recently, this was a timely update. Professor Oda's lecture was based on current media debates about the state of English teaching and learning in Japan. Some of the tweets he showed us were only a few days old. Yet, I'd heard it all before.
The CEO of Rakuten, one of the companies who are changing to English, apparently is tweeting stuff like "All elementary school teachers must be sacked. Their English is bad," "Let's fire all Japanese English teachers and hire native speakers" or "Japan has failed. Cambodians speak better English than the Japanese." I'm quoting from memory so this may not have been the exact wording but it's the gist of the messages. Apart from the fact that the message that "Japanese can't speak English" is now also delivered via Twitter, nothing seems to have changed in the many years since I've been following news about English in Japan.
Hang on! Japan has invested heavily into English language teaching for a couple of decades. Japan probably has a higher native-speaker-teacher—English-language student ratio than any other English-as-a-Foreign country in the world. If anyone has any actual stats on that ratio, send them in! While the eikaiwa business seems to have slowed down a bit, over the past decades huge numbers of Japanese from all walks of life enrolled in private English classes to practice their speaking skills. Many went abroad to study English in a total immersion environment. All for nothing?!
Factually, all that English language learning must have had an impact and today's Japanese are more proficient in English than ever before, and the way it's going, each generation is progressively more proficient. However, the discourse that the Japanese collectively don't know how to speak English hasn't moved an inch: everyone with an opinion on the matter still seems to say that they need to start earlier, have more native-speaker teachers, overcome their anxiety and just speak, work harder or send their children abroad in the same way the Koreans do as was suggested in yesterday's discussion. Regular readers of Language-on-the-Move already know what I think of that.
So what does it all mean? The Japanese have been learning English with great dedication and determination for many years and yet the perception of their English as a poor has not changed. There can be only one explanation: inflationary pressure! As proficiency in English goes up, the bar to achieve the promise of English (a better job, a more competitive economy, self-transformation into a cool cosmopolitan etc. etc.) goes up to. Drawing on Bourdieu, Joseph Park has incisively analyzed the process for Korea: as more and more people learn English and attain the qualifications that promised access to jobs and other desired economic (and also social and cultural) benefits, the market constantly needs to be recalibrated to maintain the value of English as a marker of distinction.
Language is immensely suited to be such a marker of distinction and to reproduce social inequalities because in an absolute, philosophical sense it is impossible for anyone to ever speak "perfectly."
I fully expect to hear another lecture drawing on media data deploring the dire state of English in Japan in 10 years' time unless someone tells all those commentators to just butt out! Leave our language alone and concentrate on the real challenges – maybe global warming for starters.
Park, Joseph S.-Y (2009). The local construction of a global language: ideologies of English in South Korea
Berlin and New York: Mouton de Gruyter. DOI: 10.1515/9783110214079