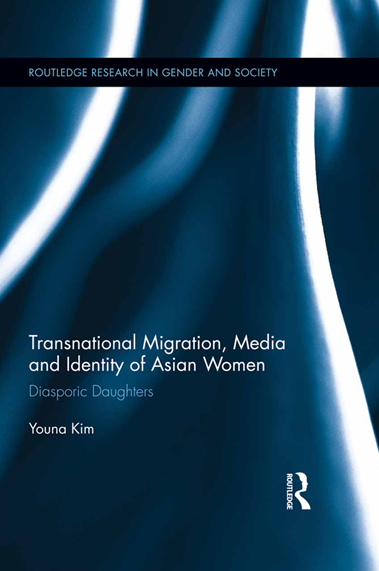 Thank you, Ingrid, for drawing my attention to this interesting online forum, Language on the Move,  and videos, Japanese on the Move. Based on empirical research on transnational Asian women in London, I have recently produced a book, Transnational Migration, Media and Identity of Asian Women: Diasporic Daughters (2011, Routledge). Interestingly, as some of the participants featured on Japanese on the Move talked about the notions of "cosmopolitan", "transnational", "identity" and "home", I would like to share some of the data from young Japanese women in my research and question: Are they becoming cosmopolitan subjects? Can they afford a cosmopolitan identity?
(British) people ask, "Are you from Japan?," so I say, "Yes, I am from Tokyo." Then they really like it! They ask lots of questions… They want to know about the Japanese hair style and kimono, temples, how to use traditional wrapping cloth that we don't even use now… They worship us. In their fantasy, they want to believe we wear kimono usually and serve tea nicely.

They seem to know Japanese culture through the media… geisha in kimono, Pokémon, advanced technologies… I came here (London) to become modern and independent, not a traditional Japanese woman. But Western men like traditional images of Japanese women, and they expect traditional Japanese women when meeting us.
The overall interest in, or fascination with, the appeal of uniquely Japanese culture in touch with tradition signifies the modern West's desire to be cosmopolitan by intermixing with Japanese otherness in their capacity and willingness to take pleasure from the transnational cultural exchange. The representation of Japan in the Western popular imagination is paradoxical and complex; the Western fear of Japanese corporations, economic power and powerful masculine nationalism by which Japan is seen as a site of potential threat, but on the other hand, the Western attraction to an orientalist fantasy and subservient object of desire which is constructed through the West's sexualization and feminization of Japanese culture.
If multicultural diversity is celebrated in a cosmopolitan vision of the world, Japan could stand for a distinctive, albeit ambiguous, positioning within reciprocal recognition. Cosmopolitanism, as a relational and dialogic term, operates within the contexts of encounters, favorable or unfavorable, inclusive or exclusive, thereby a cosmopolitan possibility may emerge or not. Such interplay may generate a situated, but characteristically thin cosmopolitanism; even while women denounced and repudiated Japan's traditional masculine culture, they become more attached to the place called home with its cultural particularities yet simultaneously embracing pleasure from the interactions with the modern West, however in contradictory and implicitly forced ways with struggles in the language of paradox.
They are interested in traditional Japanese culture I don't even know about. This is a surprising discovery. I have to learn to explain to them.

In Japan, I was not Japanese. I was liberal, against old traditions. I preferred the Western world and imagined changing my self through the media… I just imagine through the media but cannot act. I am becoming more Japanese while living abroad… There is no reason to change or become like them. Being distinctively Japanese is an advantage.
The Western worship of traditional Japanese otherness, often seen as accidental knowledge to many women on the move, can impact upon and interplay with how women come to redefine a new subject position. The fluidity of conceptions of identity and change were once powerfully imagined through the Western media and occidental longings in their homeland, while mobilizing the scope to act beyond localized contexts. However, the actual interactions, discursive and communicative encounters with the West re-contextualize such imagined cosmopolitan identification and precariously expose, or impose to some extent, a fixed categorical distinction of Japaneseness.
Why be a woman of the world? The motivational reasons, which would allow for the possibility of cosmopolitan subjectivity and the determination to act on it, depend on what distinction and what gain is to be made, to what end. Far from a robust cosmopolitan projection, a self-determined reaction to how best to act from the learning of cosmopolitan knowledge rather foregrounds a national self in the distinctiveness of cultural difference, representing Japaneseness even more strongly than before ("becoming more Japanese") in the relational experience of the transnational field.