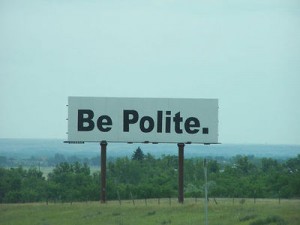 I'm chatting in English to a medical student from Germany who is visiting Sydney, Australia, and we've already talked about how I lived in Germany for a while and speak German. In the middle of a chat about which part of Germany she's from, my conversation partner turns to her friend and asks "How do you say Sachsen-Anhalt in English?" and I feel a little bit like I've become invisible. Why?
(a) Because I speak German.
(b) Because it's a place name, so a translation is not going to make it any more meaningful.
(c) Because verdammt noch mal I speak German!
Issues of opportunity to practise come up a lot in a language classroom, and as an English language teacher I've done my fair share of encouraging learners to take every opportunity to practise their newly acquired language skills. I am guilty, however, of ignoring the politics of speaking different languages in different contexts and what using different ways of speaking means in different spaces. For a classroom of Mandarin speakers in Australia, asking them to speak English with their fellow students may in fact be asking them to ignore context-specific rules about what is appropriate language use. Different language ideologies come into play: how is each language valued in that space? What does it signify, to use English or Mandarin or another language to a fellow student?
In her article "Malays are expected to speak Malay", Rajadurai describes a case study of a learner who went to great lengths to practise her second language, English, despite the social isolation she encountered as a direct result of what speaking English meant in many Malay-speaking contexts, where "promoting English is often regarded as a threat to the Malay identity and an erosion of Malay dominance" (Rajadurai, 2010, p. 94). Her efforts to use English were seen, not as an attempt to engage with dominant ideas about the value of English as a global language, but rather as an attempt to distance herself from her Malay identity and to criticise Malay culture as inferior.
In my case, I think that my new acquaintances were drawing on a their own ideas that speaking English was the appropriate thing to do in a space where there were non-German speakers present, while I was drawing on my identity as a second language speaker who was keen to become visible as such, not something I get to do very often in Sydney unfortunately. So while my conversation partner was no doubt responding to pressure from herself and her friends about the right thing to do, I was very disappointed that she didn't pick up on what I actually wanted, which was to speak a bit of German! Interestingly, the one non-German speaker there was herself multilingual, so being in a multilingual environment would have been familiar. Despite the fact that everyone at the gathering was multilingual then, I felt that the language ideology which 'ruled' was a monolingual one, which privileged singularity over diversity. It would be interesting to explore these sorts of language contact events more thoroughly to see if my ideas about language ideologies actually hold.
Interestingly, when I complained to a friend of mine who counts German and English as part of her language repertoire she responded by assuring me that although she would make an effort to speak as much German with me as possible, it was in fact impolite to speak a language others around you do not understand.
In my Australian TESOL contexts this constitutes a powerful discourse of language control. Something I often heard in the staffroom was that it was impolite for Mandarin speakers (for example) to speak Mandarin if there were other language speakers in their group. This linguistic control is often cast as being in the best interests of the learners, rather than being about teacher exclusion from learner talk and the consequent loss of power over what is said to whom. Speaking another language in an 'English-only' classroom is thus constructed as being a bad student who is also a rude person. This is also an ideology learners themselves internalise, as I often found when I discussed "class rules" with learners. As language teachers and researchers, we need to be more aware of the ways in which our students really experience what we might think are ideal opportunities to practise, but which they may see and experience very differently.
Rajadurai, J. (2010). "Malays Are Expected To Speak Malay": Community Ideologies, Language Use and the Negotiation of Identities Journal of Language, Identity & Education, 9 (2), 91-106 DOI: 10.1080/15348451003704776