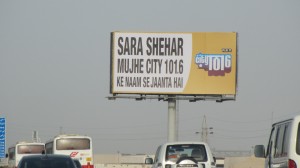 Yesterday I spoke with a study agent here in the UAE and he told me that Australian universities trying to attract students from the GCC region just didn't get the market. What he meant was that Western universities looking to recruit students here exclusively target the local Arab population and overlook the non-national population. In a country where less than 20% of the population are UAE citizens, that's a huge market to overlook. According to the CIA factbook, the UAE is the world's top migration destination and more than 50% of its inhabitants come from the Indian subcontinent. There is a perception outside the country that this demographic consists mostly of underprivileged migrant construction workers and domestics. However, these are only one group among many of Indian background. Many Indian families have lived here for generations, are wealthy and well-educated, and willing and able to invest into the education of their sons and daughters.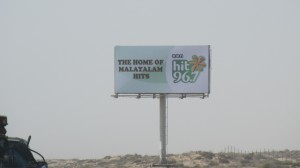 To me, the prevalence of an Indian culture indigenous to the UAE is most apparent in the radio stations. These billboards on the highway from Dubai to Abu Dhabi provide some examples. Both City 101.6 and Hit 96.7 are stations in the Arabian Radio Network targeting urban young people with an Indian background. Without any knowledge of Hindi and Bollywood movies, it took me some time to figure out the slogan "Sara shehar mujhe city 101.6 ke naam se jaanta hai." It turns out that the slogan on this billboard is an intertextual reference to a famous line spoken by the Bollywood actor Ajit Khan (1922-1998) in the 1976 movie Kalicharan. What he said was "Sara shehar mujhe Lion ke naam se jaanta hai," which translates as "The whole town knows me by the name of Lion." I'm amazed at the complex cultural references on a simple billboard and that a movie line spoken a world away in space and time continues to "fly."
I've learnt two things from the conversation with the study agent and the exercise of trying to figure out a billboard: you ignore diversity at your peril, and I wish I knew Hindi!