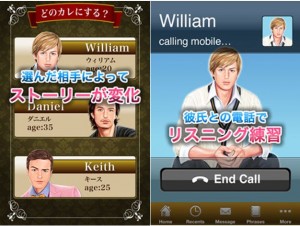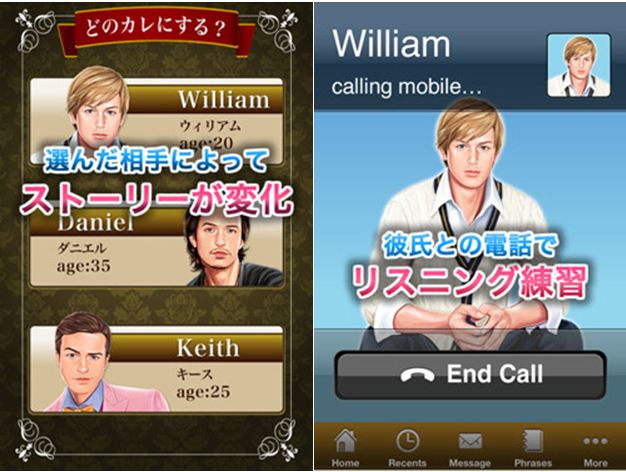 Having lived and taught English in Japan for more than fifteen years, until last night I'd thought I'd seen it all. That was until I stumbled across the もし彼氏が外国人だったら英会話 (What if my Boyfriend was a Foreigner English Conversation [my translation]) iPhone application.
This application, as you might have guessed, is a novel new twist on foreign language 'edutainment'. Consumers begin a virtual relationship with one of three characters, and as their romantic love story unfolds, English conversational ability is apparently enhanced! Wow!
 There are three virtual foreign boyfriends from which to choose from: First, there's William, aged 20. He's blonde haired and blue eyed, and sports a decisively British cricket vest. Or perhaps Daniel is more your speed? He's 35, and a dead-ringer for Johnny Depp. Finally, there's Keith. I'm not too sure what to make of Keith. At 25, he seems too young to carry off a yellow bowtie and pink sports coat. But then again, how would I know? Oh, and yes, of course William, Daniel, and Keith are all 'white'.
If you get sick of the guy you first choose, no problem. He can be changed! (According to the blurb, ストーリーは選んだ相手により変化する。) Through daily telephone 'conversations' – which are actually just recordings of your 'boyfriend' talking – your listening ability is reportedly enhanced, and through a Quiz Mode, phrases from the 'conversations' can be practiced (毎日の電話会話でリスニング力を強化し、「クイズモード」で会話に出てきたフレーズ練習を行っていく。). Such cutting edge teaching indeed!
It's no wonder there are so many glowing testimonials from satisfied consumers. According to one review, リスニングが楽しい♡, 単語じゃなくてフレーズとして覚えられるので使えそう!解説も丁寧で分かりやすい☆ (The listening is enjoyable. I can remember phrases and not just words, so it's useful! The instructions are also really easy to understand.)
 So what are we to make of all this? There now exists, of course, an exciting body of literature articulating the way language learning and romantic desires are intertwined (see for example, Takahashi, 2010). The 'language desires' of the subjects in such studies are, of course, predicated on an idealized fantasy of what 'foreign' partners are supposed to be like, but they essentially are concerned with relationships between real people. In contrast, the iPhone app described here represents, as my friend and colleague from Senshu University, Peter Longcope, cleverly put it, an intriguing case of "Tamagotchi meets Rosetta Stone". We are living in interesting times indeed!
Silly though it may seem, I never anticipated the day when the intertwinement of language learning, gender, race, and romance in the virtual world would emerge as a subject deserving of scholarly attention. Of course, the emergence of new forms of foreign language 'edutainment' such as the "What if my boyfriend was a Foreigner" iPhone app are significant because they are obviously perpetuating discourses about native speakers, nationalities, gender, and language learning that need to be challenged.
Takahashi, Kimie (2010). Multilingual couple talk: Romance,identity, and the political economy of language D. Nunan & J. Choi (Eds.), Language and culture: Reflective narratives and the emergence of identity. New York: Routledge, 199-207