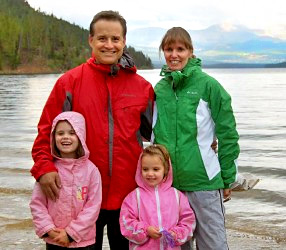 I wasn't sure of the best way to enter the Language-on-the-Move community. I've decided simply to start by telling you a little bit about me and my ongoing quest to capture something that, due to a complex set of social forces, was taken away from me in childhood: The opportunity to achieve, in relatively effortless fashion, deep and meaningful bilingualism.
I'm a professor at the University of Denver whose research focuses on the global hegemony of English and, more specifically, on the ways in which this intensifying global social phenomenon intersects with multilingualism and multilingual practice, or, in the case of English speaking elites from countries such as the United States and Australia, comparative lack thereof.
I'm also a parent working hard to raise two children, Alina, 6, and Kyra, 5, as German-English bilinguals. I'll concentrate on this experience here and likely in future entries. I do so through the lens of critical thinking that informs my research, my scholarly writing, and pretty much my whole life.
I'm working with my wife, Christine, an English monolingual who has acquired moderate receptive German-English bilingualism in the past six years, to raise our daughters as bilinguals because of a deep and abiding belief in the value of active multilingual living and practice.
We chose German due to my German heritage. My father emigrated to the U.S. in the early 1960s and met my mother, who is American. However, for a variety of reasons – most notably the culture of linguistic assimilation and, to a lesser extent, lingering anti-German sentiment in a post World War II U.S. – he chose not to pass his linguistic heritage on to his three children.
So far, we've had pretty good success in our drive to raise Alina and Kyra as meaningful German-English bilinguals – by meaningful, I mean bilinguals who can, and do, speak both German and English on a regular basis. In fact, despite multiple and powerful social forces working against us, to my amazement, Alina and Kyra are currently German dominant. That is, they speak German not only to me – we are using the one-parent, one language model – but to each other, pretty much 100 percent of the time.
All of this:
Without the benefit of a bilingual upbringing myself – I learned German in college, on my own, although thanks to a short stint as a seven-year-old at a school in Stuttgart, Germany I do have something pretty close to a "native" accent.
In an English-dominant country deeply steeped – like pretty much all "modern" nation-states – in the ideology of monolingualism and which sits smack in the middle of the global hegemony of English, social factors which mitigate strongly against meaningful public investment in multilingualism.
Against a backdrop of German collective identity which, thanks in large part to the historical legacy of World War II, arguably is steeped — at least among German educational elites of the type to which I am both related and most likely to come into contact with – in a unique anti-nationality, or an almost unparalleled desire to throw off the traditional markers of national identity, including language, in favor of a global, cosmopolitan identity that has, of course, become thoroughly wrapped up in English.
Absolutely no public educational infrastructure that supports German language learning at a young age, a fact which has forced us to send Alina and Kyra to a private language immersion school and, more broadly, spend what, in the long-run, could turn out to be hundreds of thousands of dollars out of our own pockets in what stands as a telling, real-life example of the true economic cost of lost linguistic heritage.
My long-term goal is to get Alina and Kyra to the point where: a) they far exceed my own German abilities, which are quite strong verbally, but rather weak in terms of written language; b) they can pass the Groβes Deutsches Sprachdiplom (GDS),  which would allow them, if they so choose, to study at a German university.
I'm not sure we're going to succeed in getting Alina and Kyra to that point. One of the biggest forces working against us is the sheer cost of making up for the total lack of meaningful public education language teaching infrastructure in German where we live. There is limited access to language immersion education in Spanish, Mandarin and French right now in the Denver, Colorado area – but no public German immersion programs, although I'm working to try and change this.  The theme of the actual economic cost of the ethic of subtractive language learning in one, real-life instance – my own – is one I'll pick up in a future entry on languageonthemove.