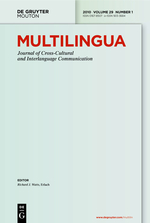 Publishing house De Gruyter Mouton is celebrating their stellar performance in the 2015 Impact Factor ratings by giving you the opportunity to explore De Gruyter's top 10 social sciences impact factor journals and 10 journal articles – of your choice – to download for free!
The sociolinguistics journal Multilingua, whose editor-in-chief is none other than our very own Ingrid Piller, is one of De Gruyter's 2015 Top 10 Social Sciences journals – so please make use of this opportunity!
Provides an international forum for interdisciplinary research on linguistic diversity in social life
Facilitates exchange of information and experience between academics and practitioners
Focuses on neglected sociolinguistic contexts worldwide
Features special issues allowing in-depth exploration of specific topics

How to get access to your 10 free articles
1. Sign up with De Gruyter Online, or log into your account.
2. In your account: Enter the Access Token IF2015-ALL in the space provided.
3. Activate your free access for up to 10 articles of your choice via the button "Get Access to Full Text".