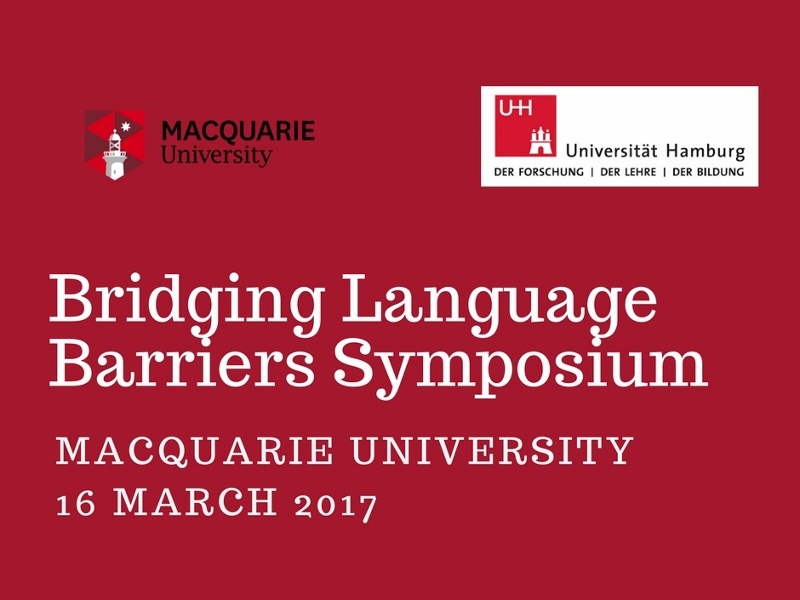 A pdf version of the "Bridging Language Barriers" program is available here.
***Update, Feb 23: Abstracts now available here***
A one-day symposium at Macquarie University asks how language barriers can best be bridged.
Bridging Language Barriers Symposium
When: Thursday, March 16, 2017, 9am-6pm
Where: Macquarie University, Australian Hearing Hub S2.6 (AHH) 1.200 Lecture Theatre
Overview: a symposium abstract is available here.
Preliminary program: 
9:00-9:15        Welcome
9:15-10:15      Keynote lecture 1, Prof Ingrid Gogolin, Hamburg University, Language diversity as an asset for teaching and learning: theoretical considerations and empirical indications
10:15-10:45    Tea break
10:45-12:45    Panel 1: Educating diverse student populations
Susan Poetsch, Sydney University, Languaging their learning: how children work their languages for classroom learning
Hanne Brandt, Hamburg University, Language Learning in the Mainstream Classroom: Social Science Teachers' Approaches and Attitude
Miriam Faine, Monash University, Student experiences in the superdiverse university
Stephen Doherty, University of New South Wales and Jan-Louis Kruger, Macquarie University, Bridging language barriers in educational settings using subtitles for first and second language students
12:45-13:45    Lunch
13:45-14:00    Transition
14:00-15:00    Keynote lecture 2, Prof Drorit Lengyel, Hamburg University, Home languages and home language instruction in the German education system
15:00-15:30    Tea break
15:30-17:30    Panel 2: Multilingualism in institutions
Ruth Arber and Michiko Weinmann, Deakin University, Orientating languages: Navigating multilingual spaces
Tobias Schroedler, Hamburg University, Multilingual Practices in a German Institution: A case study of multilingualism amongst staff in Hamburg University 
Amanda Miller Amberber, Australian Catholic University, Language therapy in the first versus second language for multilinguals with aphasia: effectiveness and barriers to treatment
Haidee Kruger, Macquarie University, The double-edged sword of translation: Language-in-education policy, publishing languages, and translated children's books in South Africa
17:30-18:00    Closing panel

Would you like to be part of the Bridging Language Barriers symposium? 
Attendance at this highly interactive event will be free but numbers are limited. To avoid disappointment, register your attendance now by sending an e-mail to [email protected].
For those who are interested in participating but unable to attend on the day, we will host a range of related online discussions and forums here on Language on the Move. Throughout the day, we'll be live-tweeting the event. Our Twitter hashtag will be #LOTM2017. Follow @lg_on_the_move