My recent book Becoming Diasporically Moroccan explores how next-generations after migration use communicative resources to feel 'at home' in their ancestral homeland. By following some Belgian, Dutch and French Moroccan-origin families, I learned the embodied and linguistic strategies next-generation young adults employed for 'becoming-Moroccan' through where they were hanging out and spending time in public space,  from marketplaces to nightclubs. By investigating how these interactions actually took place, as opposed to how they are reported when back at 'home' in Europe, I illustrate some of the social tensions about 'Moroccanness' as it is performed diasporically – in Morocco during the summer, when the diaspora 'comes home' and around the world.
As people migrate from place to place around the globe, more and more 'next generations' are born into a place where they both belong, and do not belong – they are 'from' there, but also 'from' somewhere else. Increased access to modes of travel mean that we can be 'from' somewhere and regularly visit another place where we are 'from'. But sometimes those visits mean passing through borders where we are categorized: we become 'strangers,' even if the passport says we are not.
I first encountered this phenomenon on a ferry boat between Algeciras, Spain and Tangier, Morocco, in July 1999. I was a person who precisely fit a well-known category: an American college student, spending a summer backpacking through Europe. I was by myself for this leg of the trip, but found that I quickly met people on this boat: other European travelers, looking for adventure in Morocco, as well as Moroccan families living in Europe who were going 'home' for their summer holidays.
I was bowled over by the cacophony of voices I heard on that boat, speaking all varieties of European and Moroccan languages. I was surprised that there were so many people making this journey, since I had not known about the massive flow of Moroccan guestworker migration into Europe during the 1960s and 70s. The ferry was overflowingly full with Moroccans who seemed to be 'going home,' yet who were definitely coming from homes in Europe. Even today, that ferry is a microcosm of Moroccan migration in Europe, where original migrants, now grandparents and great-grandparents, travel with their children and grandchildren between homes. It is a place where Moroccans from all different parts of Europe might meet each other, since many still travel by car overland from their European homes in order to spend their summer holidays in Morocco. It is also a place where they encounter the border: when travelling by ferry to and from Morocco, passport control often takes place during the three-hour ride. Moroccans from all over must present their passports and national identity cards
***
On the ferry crossing from Algeciras to Tangier, I have observed many times how a negotiation of belonging happens as each passenger steps up to the customs officers processing entries. Moroccan citizens are recorded by their national identity card number; the system assumes that if you are 'Moroccan,' then you have a Moroccan national identity card. I have watched over and over how individuals step up to the desk to have their passport stamped for entry, and must negotiate being 'Moroccan' or not, based on having an ID card, or knowing their national identity card number. One of the diasporic visitors (DVs) who participated in this research, in fact, entered as 'Belgian' because she had lost her ID card. Even while she spoke Moroccan Arabic with the officer, who acknowledged that she is a citizen, he stamped her as a visitor, with the same type of visitor ID number in her Belgian passport as I have in my American passport.
These small instances of classification, or categorization, all contribute to an experience of what it means to be 'Moroccan' or to be 'diasporically Moroccan' for migrant-origin European-Moroccans who took part in this research. During their annual summer visits, 'being-Moroccan' a categorial ideal-type, shaped through dimensions and practices of embodiment that emerge in the encounters DVs have with resident Moroccans. I argue that this category exerts considerable force because of the tension of 'betweenness' in their materially 'Moroccan' bodies – visually categorizable as 'Moroccan' – and their materially and expressively 'non-Moroccan' corporeality. They belong because of their 'Moroccan' bodies, lineages, families, and attachments, yet do not belong because of their 'non-Moroccan,' 'European' habits, preferences, sensibilities, speech, and ways of being in and through their skins.
I do not, however, want to accept this problematic 'betweenness' as the final definition for 'being diasporic'. Instead, this book is concerned with how DVs reconcile this duality in interaction by negotiating the ways they are categorized through embodied and linguistic practices of belonging. It is also about how these categories of 'Moroccan' and 'non-Moroccan' are themselves malleable, and are changing in response to the way DVs and others engage with them. So, the subject of this book is not 'being diasporic', but 'becoming diasporic': exploring how the practices, interactions, experiences, and encounters of people who participated in this research emerge into new, vibrant categorizations of 'diasporicness' that change what it means to be 'Moroccan' both in Europe and in Morocco, and are becoming more recognizable and more solidified with every return visit.
***
While the categorial distinction they face in Europe is something about descent – not coming from the right parents – in Morocco it is something about place – not being from the right environment, where place-based knowledge, practices, and forms of embodiment are immediately recognizable and categorizable in interaction. For individuals in such diasporically-oriented communities, place and descent are not mapped directly on to each other; they are inevitably askew. For the participants here, the circumstances of their parents' mobilities led to their residence outside of Morocco, just as circumstances of others of their generation led to residence in Morocco. Each circumstance, through many interacting parts, leaves traces on their bodies and in their practices that are made relevant when coming face-to-face. In encounters where the rupture of migration is relevant, descent and place become pivots for categorial belonging.
***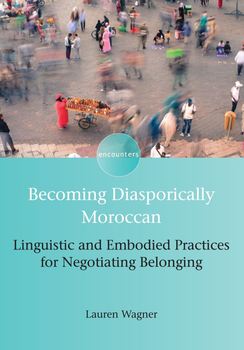 The way I present this discussion also gives categories, and modes of belonging to them, a certain amount of agency or force: they are working on people, evoking certain behaviors, being made relevant as specific practices. Following methods in membership categorization analysis and ethnomethodology, I used micro-analysis of interactions – to the extent that I was able to record and document these interactions for sequential analysis – to demonstrate how participants responded moment by moment in relation to categories that were made interactionally relevant by their practices. Over repeated iterations of similar activities, patterns emerge of a certain range of practices that are accepted by interlocutors, juxtaposed against unacceptable ones, creating the fuzzy and shifting boundary of categorial belonging. Through micro-analyses, we can see how, as people do things with categories, categories are also shaping the scope of what people can do – up to and including how new categories might emerge as a social collective of individuals are continuously pushing at the edges of current ones.

Reference
Wagner, L. (2017). Becoming Diasporically Moroccan: Linguistic and Embodied Practices for Negotiating Belonging. Bristol: Multilingual Matters. Book page on publisher's site.