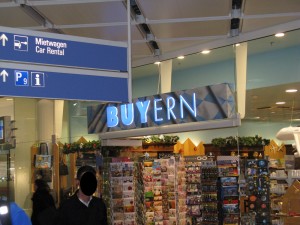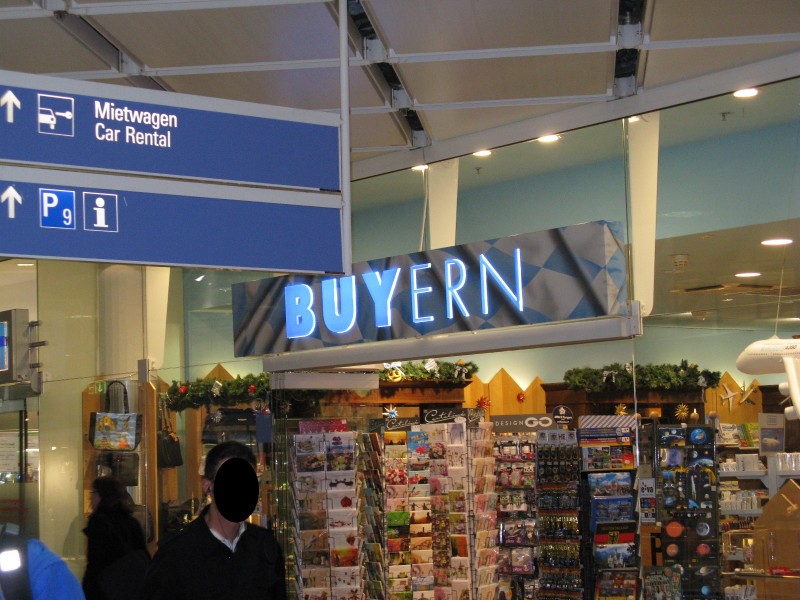 Persian version of my blog post about English as the non-language of globalization.
Translated by Niloufar Behrooz (نیلوفر بهروز)
(نوشتار شماره ٢ در مجموعه نوشتار های کوتاه درباره ی نشانه های چند زبانه)
اغلب تابلوهایی كه در مكان هایِ عمومیِ حالِ حاضر يافت می شوند جنبه ی تجاری دارند. اين نوعی روشِ تبليغات است و انتخابِ لغات در تابلوهایِ تجاری از جمله اسامیِ مغازه ها و فروشگاه ها به خوبی بيانگر ارزشهایِ مرتبط با يك زبان خاص مي باشد. هدف اصلی اين است كه معنایِ ضمنیِ نامِ فروشگاه به گونه ای باشد كه مشتری های زيادی را جذب كند. از يك چشم اندازِ چند زبانه، نشانه هایِ جالب آن هایی هستند که در آن ها از زبانی غير از زبانِ پیش فرض – زبانِ رسمي يك مكانِ خاص – استفاده شده باشد. در بيشتر دنيایِ غيرِ انگليسی زبان علامت هایِ انگليسی البته باعث مباهاتِ آن مكان شده وانگليسی به طور گسترده ای با مفاهيمی چون نوين گری، پيشرفت، جهانی سازی و مصرف گرايی پيوند خورده است. در حالی كه زبانهای غير انگليسی غالبا نشانگر كليشه های قومی هستند، انگليسی نشانگر يك كليشه یِ اجتماعی است (همان طور كه با شرح جزئيات در اين مقاله به آن پرداخته ام). اين به اين معناست كه انگليسی قرار نيست همان طور كه  فرانسوی یا ايتاليايی برای آغشتنِ یک داد وستدِ اقتصادی به رنگ و بویِ فرانسوی و ايتاليايی مورد استفاده قرار می گیرد، يكسری كيفيتِ بريتانيايی و آمريكايیِ کلیشه ای را تبليغ كند.
ارتباط زبان انگليسی با مصرف گرايی به طور كامل در تابلویِ اين فروشگاه در فرودگاهِ مونيخ مشخص شده است. مونيخ پايتختِ باواريا يكي از ايالات ساختار فدرال آلمان است. لغتِ آلمانیِ موردِ استفاده برای باواريا بايرن (Bayern) است و بخش اول Bay-ern دقيقا مثل كلمه یِ انگليسیِ Buy (خريدن) تلفظ مي شود. اسم ِ فروشگاه نوعی معمایِ لفظی ِ به تمامِ معناست. رنگ ملی باواريا، يعني آبي، در پس زمينه یِ لوزی شکلِ تابلو روابط ملی (گرایانه) را تقویت می کند. به عنوان كسی كه در باواريا بزرگ شده، با پيش فرضی از نماد ملی كه در بچگی به من القا شده بود، عكس العملِ ناخودآگاهِ من اما نسبت به اين تابلو از نوع وحشت و رنجش بود.
زبان انگليسی در اين تابلو به وضوح هيچ گونه ارتباطی با هيچ كشور انگليسی زبانی ندارد، بلكه انگليسی را به نمادِ ملیِ ناحیه ای غيرِ انگليسی زبان، يعنی باواريا، پيوند مي دهد و مردمِ آن ناحیه را به عنوان يك هدف مصرفی عرضه مي كند. کالاهایِ موجود در اين فروشگاه از انواعِ سوغات به شمار مي آيند، سوغاتِ باواريايي، آلمانی، اروپايی، فرودگاهی، كريسمسی ( من اين عكس را نوامبر سال پيش گرفتم) و چيزهای ديگری كه تنها برایِ خريده شدن آن جا هستند. بخريد!
مثل بسياری از فرودگاه های ديگر، انگليسی اين مكان را به نا-فضایی برای مصرف ِ مفرط، گردشِ مفرط و نماد هایِ ملیِ مفرط تبديل می سازد. انگليسی زبانِ جهانی سازی است؛ در این شکی نیست اما جهاني سازیِ هيچ-چيز، همان طور که جورج ریتزر به ما می گوید! آيا اين به اين معناست كه انگليسی زبانِ هيچ-چيز است؟ نا-افرادی در نا-مکانی سرگرم ِ خریدنِ نا-چیزهایی در نا-برخوردهایِ تجاری و با استفاده از یک نا-زبان؟
References
Piller, I. (2003). ADVERTISING AS A SITE OF LANGUAGE CONTACT Annual Review of Applied Linguistics, 23 DOI: 10.1017/S0267190503000254
Ritzer, G. (2007). The globalization of nothing 2 Thousand Oaks, CA, & London: Sage.