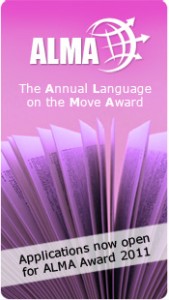 The deadline for the 2011 ALMA Award application has been extended to February 28th. Please consider applying and encourage interested students and colleagues to apply! We are particularly interested in receiving applications from PhD students and early career researchers in countries whose voices are underrepresented in the English-speaking mainstream of our field. Apply for the 2011 ALMA Award here.
It was a great joy for us to have the 2010 ALMA award winners, Dr Lachlan Jackson and Mr Muhammad Ali Khan, on our team. In their blogposts, they wrote about Bihari speakers in contemporary Pakistan, the role of government-approved textbooks in Pakistani education, Japanese men and romance, and foreign fathers in Japan. Although Lockie's and Khan's tenure as 2010 (and Inaugural!) Winners of the ALMA Award is almost over, we are hoping that they'll continue to be part of the Language-on-the-Move team and we are looking forward to learning more about multilingualism, language learning and intercultural communication in Japan and Pakistan from them.
As we are getting ready to select the 2011 ALMA award winner, Khan and Lockie have agreed to share their experience with the 2010 ALMA award with us. Find Khan's reflections here and Lockie's reflections here. We hope that you'll find these testimonials informative and inspiring and that they'll make you want to join us, too!