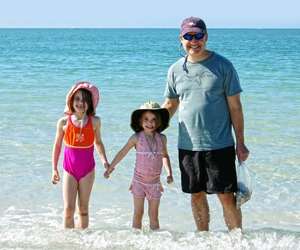 I'm one of the comparatively unlucky few swimming against the global linguistic tide.
I'm a mother tongue speaker of English, "the" global language. That means if I want to become a highly fluent speaker, and writer of another language, I, and others who grow up initially as English-language monolinguals and who yearn to become meaningful multilinguals, must fight the global wave of English that so relentlessly aims to throw us back into the throes of comparative English monolingualism.
In so many places we English mother tongue speakers go, it is so difficult – nigh near impossible, actually – to escape the global wave of English.
Take this blog page on Language on the Move, for example: It's aimed at a global audience and therefore written in English. If I want to write for Language on the Move – and I do 🙂 — I have to write in English.
English and international NGOs
Or take the international NGO scene: Maybe I want to go work for an international NGO in, oh, I don't know, let's say Cambodia. Chances are, I'm not going to get the job unless I'm highly fluent in English, though a bit of French might not hurt.
I use NGOs in Cambodia as an example because we just finished hosting a German graduate student from the University of Tübingen in our home. Anja, who was with us for seven months, came to study at the University of Denver's Josef Korbel School of International Studies (I am a professor in another department at the University of Denver).
In a couple of weeks, Anja will jet from Germany to Cambodia to intern for a few months at an international NGO. She'll be using English most, if not all, of the time in the workplace.
Turning the linguistic tide
Anja can jet off to virtually any corner of the world, and, if she remains within international domains in a given geographic area, she can be pretty much guaranteed that she'll be able to practice her best foreign language, which happens to be English. Given her life goals as well as Germany's emphasis on English —  Anja told me she has taken graduate classes at the University of Tübingen in which there were only German mother tongue speakers and which were carried out one-hundred percent in English – it's hardly surprising English is far and away her best foreign language.
While Anja can, and did, take undergraduate and graduate courses offered exclusively in English in Germany, that's never been, and likely never will be, an option for me in the reverse, where I could take, or, as a professor, teach, a university journalism or communications course in German, much less in Spanish here the USA.
Anja can also be assured that if she works in an international job, even in Germany, she will likely have a daily opportunity to use her German-English bilingualism.
The international world is at lot different for me, the English mother-tongue speaker.
A monolingual international communications scholar?
One might think there would be real, instrumental motivation and opportunity for an international communications scholar such as me to be multilingual. Not exactly. Every international conference I go to is in English and every international journal I need to publish in is published in English. Indeed, in the global academic realm, international seems to be a code word for English only.
In sharp contrast to the social pressure on the German academic to publish in English — one might more positively call it socially directed opportunity — I have no such social pressure or motivation to publish in German. Indeed, if, or, hopefully, when, I manage to do a sabbatical year of research in Germany, it's almost certain that I'll be working with German scholars on producing scholarship written in English, not in German.
It's not only on the plane of global academics that American educational elites like me are constantly confronted by a sea of English that can make it very difficult for us to develop deep and broad fluency in a foreign language. For example, in research I've conducted, many American college students who study abroad in order to acquire greater fluency in another language tell of the frustrations English's global presence produce when they're trying to practice a local language.
No other language group faces this same predicament, not the Russian speakers going to China to learn Chinese, not the Chinese speakers going to Korea to learn Korean, not the Portuguese speakers coming to the USA to learn English. Of course, this is changing as the world moves more toward an English-centric bilingual order.
It's quite likely this English-centric order may see the Russian speaker going to China to learn Chinese, and the Chinese speaker going to Korea to learn Korean also frustrated by the wave of English sweeping the world. And it goes without saying that, for the foreseeable future, the Portuguese speaker going to the U.S. to learn English won't have to worry much about being derailed, linguistically speaking, by the Portuguese speaking American swimming the other way.