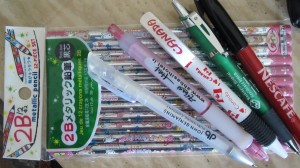 Sadly, my sabbatical is drawing to a close and one of the things to think about now is souvenirs. My sabbatical involved visits to Germany, Iran and the United Arab Emirates. My daughter has cousins and friends in each of these countries and so before we left Australia we went souvenir shopping for them. In addition to special presents for cousins and close friends, we bought generic souvenirs for school mates and unrelated children we might meet along the way. As a result, we've now schlepped erasers in the shape of a koala and pencils with images of kangaroos out of Australia and distributed them along the way. Both the erasers in the shape of a koala and the pencils with images of kangaroos were made in China but the koalas and kangaroos were obviously supposed to be code for 'authentic Australian.' Should I mention that in all my years in Australia I've never seen a koala in the wild?
Now, that we are ready to return to Australia and have to think of souvenirs for school and club mates back home, we've been looking at pens and pencils as convenient bulk souvenirs again. Here in Dubai, there are plenty of pens that say "I love Dubai," are adorned with little models of camels, or sport pictures of Dubai's two landmark buildings, the Burj Khalifa and the Burj Al Arab. That's only pencils, of course, and I won't even mention some of the completely whacky souvenirs for sale, including a salt and pepper shaker in the form of an Arab man dressed in a white dishdash (salt) and an Arab woman dressed in a black abaya (pepper). All these souvenirs are made in China, too, (maybe even in the same factory as the koala and kangaroo souvenirs?) but, again, the models and images of camels, traditional local dress, or landmark buildings are supposed to be code for 'authentic Dubai.'
So, do you want to know what my daughter chose as Dubai souvenirs for her mates? None of the above. We ended up in a Daiso store in one of Dubai's mall. Daiso is a Japanese chain that sells Japanese knickknack and displays huge signs "Everything in store imported from Japan." Japanese stuff is hugely popular with children and young adults globally and my daughter felt that an 'authentic Japanese' souvenir would be more popular with her Australian friends than something Dubai-ish. Do I need to mention that, despite being 'imported from Japan' most of the goods in the store, and certainly the ones we ended up buying are also 'made in China'?
To sum up this madness: I've spent money on objects made in China in Australia and Dubai. Then, I schlepped the objects bought in Australia to Germany, Iran and the UAE and the objects bought in Dubai to Australia. Why? As an expression of affection and a way to establish symbolic connections between my child and other children in diverse locations and as a reminder of various places to which we have been (Australia) or that are widely thought of as cool (Japan).
The brisk business in souvenir shops seems to suggest that I'm far from being alone in engaging in such irrational practices. Indeed, "objects and language in trans-contextual communication" make up a fascinating area of enquiry and will be the focus of an upcoming special issue of the journal Social Semiotics. Check out the call for papers here. The deadline for abstracts is March 02, 2012.