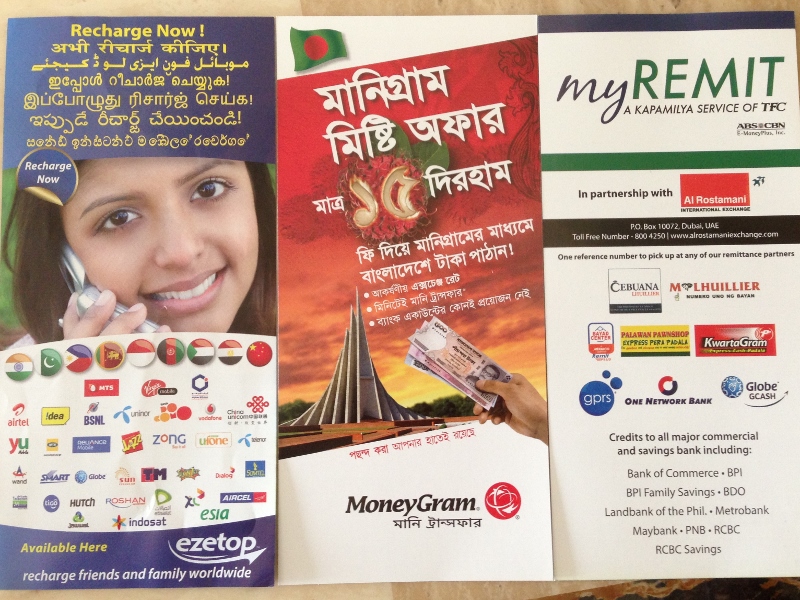 The Muslim holy month of Ramadan has just come to an end. Like Christmas, Diwali or a wedding, the closing holiday, Eid al-Fitr, constitutes a massive occasion for gift-giving. In many parts of the world, one way to pay for all these gifts that have to be exchanged among family and friends on occasions such as these is through funds coming in from abroad, through the remittances of family members who work overseas.
In this post, I will explore the global flow of remittance monies and the language practices to which they are related.
Remittances are big business
The amount of remittances – monies transferred internationally by individual international migrants to family members in their home countries – is staggering: according to World Bank data, in 2016, migrants remitted USD 601 billion to their families back home.
Migrants in the United Arab Emirates (UAE) are amongst the world's top senders: in 2015, Indian nationals alone transferred USD 13 billion from the UAE to their families back home; another USD 5 billion were sent to Pakistan and USD 4 billion to the Philippines.
Staggering as these totals may be, they are made up of relatively small individual sums: the average value of an individual transfer from the UAE is 700 dirham, that's about USD 190. Workers remit about 70% of their salary.
During Ramadan 70% is not enough, though, as Abdullah, a construction worker from Pakistan, explains:
"There is a need for more money in every home for Eid, it's a necessity," [he] said. He earns Dh700 [USD 190] but sent home an extra Dh200 [USD 54] on top of the Dh500 [USD 136] he sends each month. "I budget and save, and keep less for my needs. A gift must be given and everyone at home must get a gift."
That it is very modest amounts that add up to form these large remittance streams is further illustrated by Zubair, a factory worker from India:
"Some people borrow but then they spend the whole year paying back," said Zubair. "I try and save Dh30-40 [USD 8-11] more a month, so I can send more money now. Slowly, slowly that is how you can keep money aside, but it will not stay with you for long, so best send it home quickly."
Languages in the UAE
The official language of the UAE is Arabic and the de facto language is English. This overview statement hides as much as it reveals, as I explain in a chapter about the urban sociolinguistics of Dubai. One of the complexities the statement hides is the fact that the UAE's huge migrant population of around 85% speak a great variety of languages other than Arabic and English.
As is true of most migrant-receiving countries, migrant languages are, by and large, hidden and rendered invisible in public space. Migrant languages do, of course, appear in the signage of small ethnic businesses but they are excluded from "mainstream" commercial spaces: in the large supermarket chains, the shopping malls or the multinational eatery chains one will look in vain for any signs of languages other than Arabic and English.
For people on salaries such as those of Abdullah and Zubair, these venues have nothing to offer and just as these men are excluded from Dubai's glitzy image, their languages are.
Multilingual money transfer businesses
While the signage in each and every corporate business in the UAE is dominated by English and, to a lesser extent, Arabic, there is one industry that is an exception and where extensive multilingualism is prominently displayed: money transfer businesses.
The ubiquitous retail outlets of global money transfer service providers constitute one domain where Dubai's other languages have a strong presence in the public linguistic landscape. Given the figures cited above, it is not surprising that money transfer businesses in the UAE always seem to be doing a brisk business and on Fridays long queues can often be observed as migrants use their weekly day off to send remittances back home.
Money exchanges advertise their services in many different languages. It is not unusual to find advertising materials printed in up to seven languages in a variety of scripts.
What do remittances buy?
The main purposes for which remittance monies are used are education, emergencies and gifts, according to a survey by Western Union. These material uses are loaded with an emotional connection in remittance advertising, where the money sent home constitutes the migrant's key link to family left behind. Remitting money is invested with the promise of belonging, connection and happiness.
The lives of migrants are often schizophrenic and caught up in transnational circuits where different parts of the migrant's identity are anchored in different places. The money migrants send and Dubai's other languages provide a link between their economic identities in their destination and their familial identities in their place of origin.
Want to learn more about urban sociolinguistics?
Watch out for this new book on urban sociolinguistics due to be published by Routledge later this year:
Smakman, D. & P. Heinrich. Eds. 2018. Urban Sociolinguistics: The City as a Linguistic Process and Experience. London: Routledge.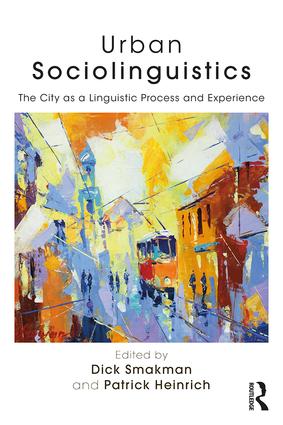 From the blurb:
From Los Angeles to Tokyo, Urban Sociolinguistics is a sociolinguistic study of twelve urban settings around the world. Building on William Labov's famous New York study, the authors demonstrate how language use in these areas is changing based on belief systems, behavioural norms, day-to-day rituals and linguistic practices.
Each chapter is written by a key figure in sociolinguistics and presents the personal stories of individuals using linguistic means to go about their daily communications in diverse sociolinguistic systems such as:
extremely large urban conurbations like Cairo, Tokyo and Mexico City
smaller areas like Paris and Sydney
lesser developed areas (from an urbanisation point of view) such as the Western Netherlands Randstad area and the Kohima area in India.
Providing new perspectives on crucial themes, such as language choice and language contact, code-switching and mixing, language and identity, language policy and planning and social networks, this is key reading for students and researchers in the areas of multilingualism and super-diversity within sociolinguistics, applied linguistics and urban studies.
A preprint of the chapter about Dubai – "Language in the ethnocratic, corporate and mobile city" (pp. 77-94) – is available here.