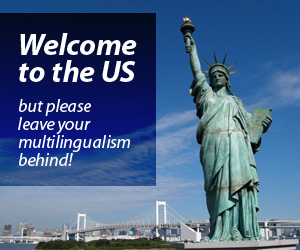 I know some people think what I am doing with my daughters – speaking German to them one-hundred percent of  the time even though German is a second language for me – is "extreme".
Since the very beginning, I've been very strict in terms of our one parent, one language policy. I haven't ever spoken English with my children, one of whom is 7, and the other of whom is 5. Our daughters also watch only German-language DVDs and German-language TV – which we stream over the Internet (I'm so grateful for the Internet, something which essentially wasn't there just one generation ago).
I stick to speaking German with my daughters one-hundred percent of the time, in every context, whether it is at the dinner table, where they are speaking English to my wife, the playground, where they're speaking English to playmates (we often translate from German into English for my wife and others), or, at the grocery store where I am going shopping with them.
Language immersion
We're also sending our daughters to the Colorado International School, a private language immersion school in Denver, Colorado – and this is costing us quite a bit of money. Some people also see this as "extreme".
In fact, what's truly extreme is American society's single-minded determination to create – one might more accurately say impose — a monolingual society.
Indeed, it is American society's extreme commitment to monolingualism – a commitment unfortunately shared by most "modern" nation states — that has forced me to be so "extreme" in our quest to raise our daughters as actually practicing multilinguals.
Nowhere is America's extreme dedication to monolingual living more apparent, or more problematic, than in the public education system. There, you will encounter virtually no language teaching and learning until children are 12 years old. And then, "foreign" languages will typically only be offered as a subject, not as a medium of instruction.
Assimilation to monolingual ideal
Indeed, the goal of the American public education system appears to be decidedly anti-multilingual, with the focus almost exclusively on assimilating multilingual individuals to the monolingual model.
With some exceptions – according to the Center for Applied Linguistics, a little over 400 out of thousands of public schools in the U.S. offer either partial, full or dual-language immersion – in the American public education system, you'll encounter no languages other than English being taught as a subject, much less being used as a medium to teach America's children.
Instead, you'll find monolingualism – to the extreme. Sadly, this monolingual practice – and the expectation that it is the way to do things — gets carried into most other social domains in the U.S.
No other languages other than English are regularly used in power domains such as politics, business, technology and, of course, higher education. In fact, I do not know of a single college or university in the U.S. that offers multiple university level courses in subjects such as history, geology, biology, journalism, etc. through a linguistic medium other than English, much less an opportunity to acquire a four-year degree by taking such courses.
So, who, or what, is it, exactly, that's "extreme" – me and the approach I'm taking in order to raise our daughters as meaningful German-English bilinguals (it truly has been a struggle, though, happily a successful one so far)  – or America's dogged determination to ensure that monolingual practice dominates in virtually all facets and domains of society?