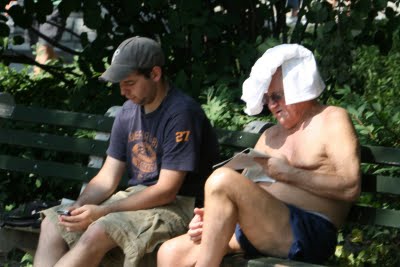 How to make English-speaking friends is one of the perennial hot topics for new overseas students and new migrants. Advice on how to make "native" friends circulates like an underground currency: "Move in with English-speaking flat-mates!" "Avoid co-ethnics!" "Watch footy and next day ask the person at the bus stop what they thought of that tackle." "Take up a sport, a hobby, a religion and join in." The list of what is and is not supposed to work is endless and so is the hidden sense of failure nourished by many whose English isn't as good as they think it should be and who don't have as many local friends as they think they should have. There is a facile assumption that language learning and making friends are connected in a virtuous cycle: English makes it easier to make friends, which in turn improves your language proficiency, which in turn allows you access to ever more widening networks and so on and so forth to the happy point where you speak perfect English and have a wide, dense and complex network of social contacts.
A recent network study of Polish migrants in London (Ryan 2011) goes beyond these beliefs and examines how newcomers actually establish networks in a new place. The case studies are unsurprising and will sound familiar to anyone in the field. We meet people such as Marek, a single university graduate in his 20s. Through a Polish network, he had accommodation and a job lined up when he arrived in London. So, his ethnic network allowed him to get a foot in the door. However, Marek soon realized that that was the end of the potential of his Polish network: living and working with other Poles, he had no opportunities to improve his English and the job opportunities that particular network had access to only extended to low-skilled, low-paid jobs but offered no avenue into a career or work consistent with his qualifications. Marek decided that learning English was a priority and a precondition for seeking alternative employment. So, he moved out and moved into share accommodation with Australians and New Zealanders. They got on like a house on fire, Marek's English has improved and he has acquired an ever-widening circle of mates from down under.
However, Marek's success in learning English and making English-speaking friends has not translated into other social benefits such as career advancement that are usually expected to flow from improved language skills and improved networks. In a sense, Marek has backed the wrong horse: his English-speaking friends are newcomers like himself but in contrast to him, they have no desire to "make it" in London: they are there to fill a gap year, to see the world, and to party. Marek reflects on the fact that his English and friendship networks have not provided him with a way in:
I didn't have here in London people, if I had a problem, for example . . . to sort out at an institution, to go somewhere, sort something out . . . I never had a person, who I could ask, who could tell me: you'll do it like that and everything will be OK. No . . . all the people, I was surrounded by, didn't have a clue about anything. (Ryan 2011: 716)
Another group who found that acquiring English and English-speaking friends did not necessarily translate into social capital in their new environments were moms. Migrant mothers of young children often find it relatively easy to access local networks through school, and the Polish women with children in the study were no exception. Practically, such mothering networks translated into play-dates and so childcare support. However, because of social dislocation in the migration context, they didn't translate into desirable ways into British society, either. Two of the Polish mothers featured in detail were university-educated and could have been considered middle-class in Poland. However, in London they lived in a working-class and underprivileged neighborhood. While they made friends with local mothers, they found that they didn't actually have much in common with the other mothers in their local area, and, like Marek's Australian backpacker friends, local mothers didn't have a clue, either, how to gain access to the professional worlds the migrant women aspired to.
It is not only language learners who buy into the assumption that learning English and making friends are part and parcel of the same package of settlement success. Language teachers and applied linguists often seem to share these socially naïve assumptions. The study of Polish migrants in London I have described here reminds us how much we can learn from migration studies. Linguistics continues to need the sociologist as Dell Hymes pointed out all those decades ago.
Ryan, Louise (2011). Migrants' social networks and weak ties: accessing resources and constructing relationships post‐migration The Sociological Review, 59 (4), 707-724 : 10.1111/j.1467-954X.2011.02030.x