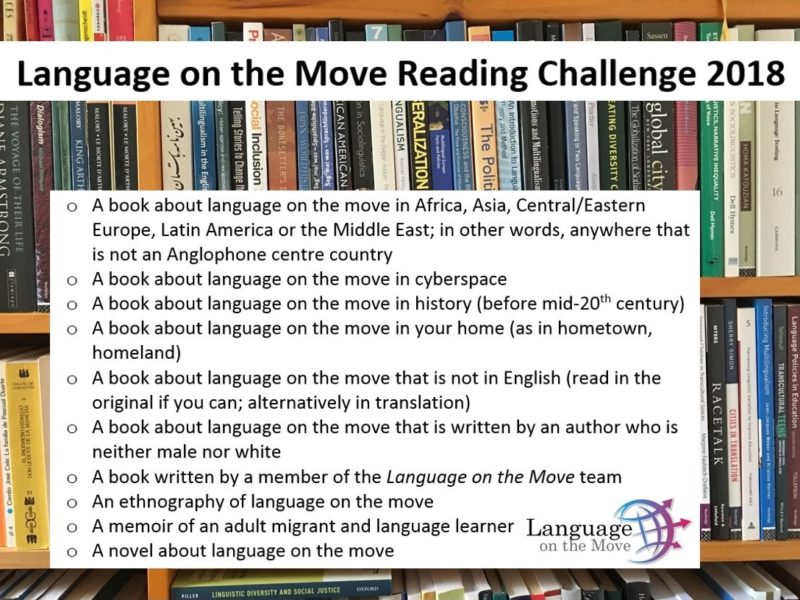 Language on the Move is back for another year and we'll start the excitement with a reading challenge.
One important piece of advice for all (aspiring) academics is to "Read, read, read!" You have to be a reader to become a writer. And you have to extend yourself in your reading – it's not enough to just read stuff that will feature in the literature review section of your next assignment or research publication. To this end and to encourage broad reading in the discipline and to make linguistics reading fun, Language on the Move is running our first-ever reading challenge this year.
The Language on the Move Reading Challenge 2018 will be devoted to, well, language on the move. By that we mean the sociolinguistics of intercultural communication, language learning, and multilingualism in contexts of migration and globalization.
Here is how it works: the challenge will run from February to November and the challenge is to commit yourself to read one book in each of the categories below. You can commit publicly by pledging in the comments below or you can keep your participation to yourself. You can track your progress by preparing reviews for our comments section (we'll try to run a "progress" blog post each month) or for another site such as Good Reads or similar. In the latter case, make sure to leave links to your reviews in our comments section so that we can go and visit.
Another way to share your progress is to tweet about it. Mention @lg_on_the_move as we will be gifting a copy of Intercultural Communication to one of our interactive followers each month from February through to November.
You can read the books in any order but you must read them between February and November this year. Double-dipping is not allowed: you can count each book only for one category, even if it fits in more than one.
Ok, now, here is the actual challenge (pin our graphic)
A book about language on the move in Africa, Asia, Central/Eastern Europe, Latin America or the Middle East; in other words, anywhere that is not an Anglophone centre country
A book about language on the move in cyberspace
A book about language on the move in history (before mid-20th century)
A book about language on the move in your home (as in hometown, homeland)
A book about language on the move that is not in English (read in the original if you can; alternatively in translation)
A book about language on the move that is written by an author who is neither male nor white
A book written by a member of the Language on the Move team
An ethnography of language on the move
A memoir of an adult migrant and language learner
A novel about language on the move
Happy Reading! Have fun selecting, reading (and reviewing) your books!