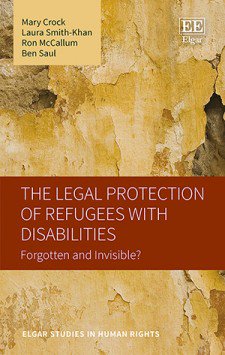 Before starting my PhD in sociolinguistics at Macquarie University, I had the great privilege of being involved in a research project that was run out of Sydney Law School at the University of Sydney. The project explored how disability was conceptualised, acknowledged and accommodated in government and NGO programmes assisting refugees. Over three years, I assisted the project's Chief Investigators, Professors Mary Crock and Ben Saul and Emeritus Professor Ron McCallum AO, travelling to Malaysia, Indonesia, Pakistan, Uganda, Jordan and Turkey. Our focus was on uncovering how (or whether) the newly created UN Convention on the Rights of Persons with Disabilities (CRPD) influences responses to forced migration. We used this rights-based lens to then explore the lived reality for refugees and identify the challenges they faced in displacement, making recommendations for change and reflecting on how the very nature of being outside one's country of citizenship can be a barrier in itself.
After we completed our fieldwork, we were fortunate to obtain additional funding; first, to travel to New York to share our findings at the United Nations; and second, to bring together our findings in the first book to be published on this topic: The Legal Protection of Refugees with Disabilities has just been published.
For me personally, this project was a unique opportunity as a young researcher – I was able to gain invaluable experience designing, coordinating and carrying out fieldwork across six different countries, with a variety of people, in a variety of languages. I learned many valuable lessons which have hopefully helped me grow as a researcher and contributed to my capabilities as a PhD candidate.
But what does this project, which centres around international human rights law, have to do with language or sociolinguistics? While this research is officially within a very different field, I have still identified so many points of crossover, or ways of thinking, that have really helped each of my research fields.
Article 1 of the CRPD states:
Persons with disabilities include those who have long-term physical, mental, intellectual or sensory impairments which in interaction with various barriers may hinder their full and effective participation in society on an equal basis with others.
Instead of placing the focus on the individual, the CRPD, both in Article 1 and throughout the remainder of its provisions, places the onus on societies. It forces us to think about the way our physical, social and legal structures differentially impact the various individuals who come into contact with them. For me, this critical reflection is also key to my growth as a sociolinguistics researcher.
For example, it may be easy to blame migrants for the various challenges they face: not being able to get a high-paying job, or having difficulty at school. But is this really about their individual 'flaws', or not trying hard enough, or does it have more to do with the legal, social, political and linguistic structures in our societies, which impact us all differently, advantaging some more than others?
In Chapter 6 of our book, for example, we discuss how a lack of work rights in many displacement settings greatly increased the risk of acquiring a disability, as refugees may be forced into exploitative and unregulated work.
Aside from legal status issues, language barriers played a significant role in access to a range of services – including gaining the knowledge that services existed in the first place. A comparison between the Syrian refugee populations in Turkey and Jordan provides an apt example: most Syrians in Jordan were able to communicate directly with locals, and even those who used Sign Language were more likely to find someone with whom they could communicate – Jordanian and Syrian Sign Language are mutually intelligible, and those literate in Arabic could also use written text to communicate. This obviously facilitated service provision, and access to work and education. By contrast, in Turkey, despite the government making very clear and concerted efforts to assist the Syrians there, language barriers created significant challenges in every aspect of life and access to services.
In places like Malaysia and Indonesia, although there were local disability rights organisations doing important work to advocate for greater inclusion, the invisibility of refugees living in their community, along with language barriers, meant that refugees largely missed out on benefiting from these groups. When we interviewed participants from Myanmar, the interpreters (themselves refugees) explained that they could not even translate 'human rights' as it was a completely unfamiliar concept – and we soon gave up asking. This contrasted with the situation in Uganda, where many of the refugees we met with had participated in programmes aimed at improving their rights, and when we spoke with them they were well versed in the 'language' of the CRPD and the concepts and rights it promotes.
Prolonged displacement situations are pertinent examples of how these types of linguistic barriers can play out quite differently over time depending on the particular structures in place in the host country. For example, in Malaysia, where young refugees have no access to the education system, their development of literacy and language skills is limited to what is offered by refugee volunteers. These classes are usually conducted in the language of the refugee group, and a range of barriers exist for children with disabilities, given the location of these 'schools' – in high-rise apartments, up narrow staircases – and the types of facilities they have – volunteer teachers with limited training, no assistance for those who need extra help, limited access to basic assistive technology like glasses or hearing aids. This understandably limits integration within the host society, and in any future country of resettlement, and the likelihood of being able to participate in the workforce in the future.
In contrast, in Uganda, where refugees are officially welcomed and permitted to settle permanently in the country, refugee children have the right to access local schools, and, in the case of a number of children who were deaf or hard of hearing who we met in camps in the south of the country, they may even be able to access specialised education, where needed.
In each setting, age-based policies that limited specific types of assistance to children (under 18 years) meant that those who had had disruptions due to their experiences as refugees or living through conflict situations may simply age out of opportunities that locals would have been able to access as soon as the need arose, following a 'normal' timeline.
It is unsurprising that these different levels of access would lead to different opportunities to participate in the host society, in both the short and long term, and very different experiences of what it means to have a disability. These experiences have reinforced for me the fundamental importance for social justice that we continue to question the way social, political and legal structures – and the beliefs and attitudes that underlie them – can impact on participation for the diverse individuals who make up our communities.

Reference
Crock, Mary, Laura Smith-Khan, Ron McCallum, and Ben Saul. 2017. The Legal Protection of Refugees with Disabilities: Forgotten and Invisible? Cheltenham, UK and Northampton, MA: Edward Elgar. Access the eBook and read the first chapter for free.
Images copyright of Mary Crock/University of Sydney.