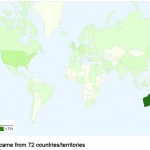 January 18, 2010 Language on the Move is a bit over three months old and so we are taking the opportunity to roll out some stats. To date, more than 4,000 visitors have visited our front page and more than 7,000 have come to our blog. Visitors have come from 72 countries and territories and we are thrilled with this international readership! The top three countries of origin are Australia, Japan and the UAE, which we like to consider as our home turfs 😉 Followed by USA, UK, Germany, Iran, China, Slovenia and Peru. A particularly big živijo and hola to our readers in Slovenia and Peru 🙂
We've posted 28 blog posts to date and have already well exceeded our initial goal of one post per week. We are now aiming for 10 posts per month! To make that possible, we'll need guest-bloggers and our first guest-blog, by Emily Farrell from Berlin, was posted only today. Since December our blog has been syndicated with researchblogging.org and one of Ingrid's posts even made it on the weekly editor's selection there.
We've put our Forum on a new platform and Language on the Move is now on Facebook! Our Network section will remain work-in-progress for another little while. In the meantime, submit your entry for the ALMA award if you haven't done so yet, read and comment – we love your feedback! – or just enjoy!