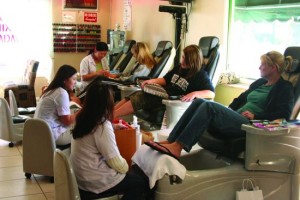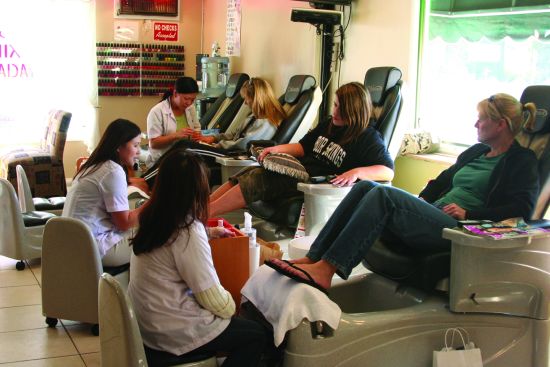 Have you recently had a manicure or a pedicure? I haven't. In fact, I've never been to a nail salon in my life. Until about a decade ago that would not have been unusual among my friends and acquaintances. Today, however, this fact makes me an exception. Most of the women I know nowadays visit nail salons and here in Sydney little girls have 'nail parties' for their birthdays where they and their friends get their nails 'done.' If you haven't bucked the trend and have been to a 'nail bar' recently, chances are you were served by a Vietnamese nail technician and/or the store was Vietnamese-owned. In the USA, for instance, less than 1% of the population are Vietnamese but 80% of nail technicians in California and 43% nationwide are Vietnamese. No surprise then that this 2008 Los Angeles Times article claims "it's hard to meet a manicurist who isn't Vietnamese." Vietnamese nail technicians also dominate the market in the UK and most of continental Europe, in Australia, New Zealand and other parts of Asia including, unsurprisingly, Vietnam.
I was curious to find out whether the emergence of a new industry (nail care) and the transnational domination of that industry by a specific ethnic group (Vietnamese) had anything to do with language? Sure has, as I've learnt from a 2011 article in the International Migration Review (Eckstein & Nguyen, 2011).
Migrants often find that lack of proficiency in the local language is a barrier to workplace entry in their field and/or at the level at which they are qualified. They also often find that they can't wait around till their language has improved sufficiently before having to make a living. The Vietnamese leaving Vietnam in the 1970s were no exception to this.
Linguistic barriers to employment are highest in the professions, where usually (part of) the qualifications and training process needs to be re-done and/or certifying and registration exams need to be undertaken in the local language. That's why migrant lawyers are rare. Linguistic barriers to employment are lowest for self-employment in areas with little state regulation. That's why migrant-owned corner stores are frequent.
Within a particular industry, the same rules apply. Let's take the beauty industry: if you are a cosmetic surgeon and want to move to another country, chances are you'll never work as a cosmetic surgeon again. Depending on where you are from and how your previous qualifications are assessed, you are facing years of re-training, qualifying exams in the new language and other hurdles to re-gain your license to practice in the new country. At the other end of the beauty industry, you'll find nail technicians: to practice as a nail technician in Australia, for instance, you don't need any formal qualifications whatsoever. Limited proficiency in English thus poses no or only a minor obstacle to workplace entry as a nail technician. However, speaking Vietnamese might confer an advantage, as I'll explain now.
In the 1970s, the family of a former commander in the South Vietnamese Navy found that there were few opportunities for them and fellow Vietnamese refugees in California. Like many others in a similar position, they tried their luck in all kinds of ways and opened a beauty school, the Advance Beauty College (ABC) in Garden Grove, CA, an area aka 'Little Saigon.' They taught in Vietnamese and after a short course, students could go and start their own nail salon. Many of them did because in addition to the lack of linguistic barriers, the financial investment was low, too.
At that time, nail salons hardly existed and manicures and pedicures were a preserve of the rich and famous. However, the emergent supply of Vietnamese nail technicians and nail salons meant that manicures and pedicures suddenly came into the reach of Californian women of lesser means.
Vietnamese nails-only shops revolutionized manicuring in much the same manner that McDonalds revolutionized inexpensive, fast food service. Like McDonalds, the nails-only shops appealed to busy Americans who wanted quick, dependable service, when convenient to their schedules, and who were content with the provisioning of the service in an impersonal manner. (p. 654)
Vietnamese entrepreneurs thus did not fill an existing market but created a new one. Once established, this market spread easily through franchises. Regal Nails, located within Walmarts, for instance, was founded by a first-generation Vietnamese, as was the Australian market leader, Professionails.
Once established, linguistic necessity became a virtue for Vietnamese nail entrepreneurs, as ethnic networks ensured a continuing supply of first-generation workers with few other options. As such the continuation of the business model depends on continuing emigration from Vietnam because with better education and bilingualism, the second-generation does not need to rely on their ethnic ties and have many other employment options.
As I've explained it was the absence of regulation combined with the availability of training in Vietnamese that made California that birthplace of the Vietnamese creation and subsequent domination of the nail care industry. Furthermore, when the State of California introduced licensing exams for nail technicians in the 1990s, there was the option to take the certifying exams in Vietnamese. Thus, the Californian state chose, in this instance, not to erect a linguistic barrier to employment for its Vietnamese-speaking citizens.
Once established, and as the nail care industry expanded beyond California, across the USA and, later, went global, Vietnamese domination had the effect of excluding non-Vietnamese from the industry so that today lack of proficiency in English is rarely a barrier to becoming a nail technician but lack of Vietnamese does constitute such a barrier. As the industry transnationalized, it moved back to Vietnam and many nail technicians now train there before emigrating and have jobs already lined up before they even leave the country.
In case any of our non-Vietnamese readers are inclined to feel jealous, consider that it is only the continued 'Vietnamization' of the supply chain that makes your cheap manicures and pedicures possible.
[…] they work in the least skilled, least revenue-generating segment of the beauty industry. Most typically, when Vietnamese entrepreneurs expand their business involvements they do so by opening additional salons of the same sort, not by diversifying their beauty care offerings to include those that are most profitable. Similarly, nail technicians do not invest in additional training to qualify for the better paying jobs in the beauty industry. Vietnamese, accordingly, are creating conditions that work against their own longer-term interests. They are fueling intra-ethnic competition that is likely to drive down their earnings, unless they further increase demand for their services. (p. 666)
Eckstein S, & Nguyen TN (2011). The making and transnationalization of an ethnic niche: Vietnamese manicurists. The International migration review, 45 (3), 639-74 PMID: 22171362