Installment #7 in the mini-series on multilingual signage
When I lived in Basel in Switzerland, my then-preschool child was just learning to make sense of the alphabet and to sound out words – a development I obviously encouraged as much as I could by seizing every literacy opportunity. Generally speaking, pretty much everything can be a learning opportunity. However, I had one problem: the most direct route to her childcare center was past this huge graffiti.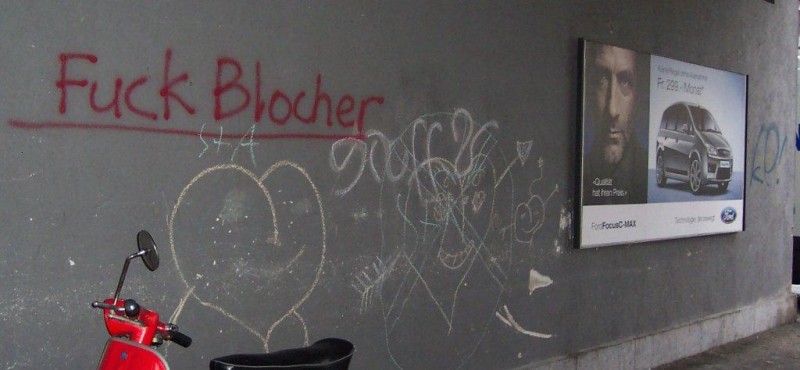 Imagine my dilemma: normally we talk a lot about letters and words and how to put them together, except when it comes to the writing on the wall and mummy gets all cagey and goes "never mind" … Although I like to think of myself as a creative teacher, I've never been able to come up with an age-appropriate way to talk about this piece of graffiti except to change my route and take a longer route that did not involve walking past the wall with the "Fuck Blocher" graffiti. Blocher, btw, is a controversial right-wing politician.
Judging on the basis of graffiti, the f-word is continental Europeans' favorite English-language word. The margins of the English-language empire writing back?! Most commentators on graffiti agree that graffiti are intended to be transgressive and to express some kind of opposition. This is clearly the case with fuck-graffiti. Opposition may be directed against specific politicians and the politics they stand for, as in the example above or the large number of "Fuck Bush" graffiti that graced many European cities in the middle of the decade (the first example in the slide is from the window sill of a Basel tram). Instead of targeting a particular politician, opposition may also be expressed against "the system" and its oppressive apparatus more generally, as in ubiquitous "fuck the police" graffiti (one example in the slide show is from the play equipment on a Swiss playground; the other is from a suburban Munich train station).
Why does a 1988 NWA gangsta rap protest song from the American ghettos continue to speak to European youths, in a different time and a different place? One explanation might lie in the appropriation and commercialization of hip hop and African-American cultural styles more generally that has seen them expand around the globe. Another explanation can be found in other fuck-graffiti, namely those that speak of ethnic tensions and conflicts in Europe and that allude to the exclusion of migrant youths and the concomitant formation of ethnic gangs. Slides 4-6 provide evidence of such ethnic tensions. All three come from public transport spaces in Basel: "Türkiye The best fuck of The rest;" "Fuck of Swiss" and "Fuck you Serben," with "Serben" ("Serbians") subsequently crossed out and replaced with "self."
Some fuck-graffiti simply speak of animosity between individuals such as those in Slides 7-9 with "Fuck you Dina Ok!;" "Fuck off Deba" and "Fuck you bitch!!" The use of "ok" and "bitch" also suggests an indebtedness to rap and hip hop and an allusion to gang culture. Apparently, international youth culture has become so infused with rap and hip hop that English has become the medium of choice even for the expression of personal animosity – if one chooses to express that animosity through graffiti.
I'm not too sure what to make of the last two examples in the slide show. One comes from a bunk bed in a Swiss youth hostel and the other from a Basel building: "If you wanna reach the sky, fuck a duck and try to fly!! :-)" and "think fuck is funny fuck yourself and safe the mony." They are obviously some kind of sayings or proverbs but the intertextuality escapes me. It doesn't matter, either – graffiti are supposed to be ephemeral and not analyzed by an academic. What intrigues me is the language choice: nowhere in my collection of German and Swiss graffiti do I have a rhyme in German or French or any other language. The language of transgression is overwhelmingly English in these graffiti!
Jørgensen (2008) makes a similar observation about Scandinavian graffiti. However, where he concludes that the choice of English is evidence of the fact that graffiti break, inter alia, the monolingualism norm, I don't actually see a monolingualism norm operating in much of continental Europe. A hybrid language that makes substantial use of English is the public language both of those who buy into the rhetoric of globalization (see my recent post about English as a non-language) and those who oppose it. In the fuck-graffiti I've presented here, English is both the language of the Self and the language of the Other.
Jørgensen, J. (2008). Urban Wall Languaging International Journal of Multilingualism, 5 (3), 237-252 DOI: 10.1080/14790710802390186