At 11pm at a Japanese ramen rest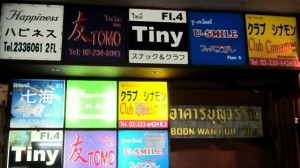 aurant in Thaniya, Bangkok, a group of five middle-aged Japanese men and five young Thai women were dining right next to my table. It's the kind of sight that is very common, if not expected, in this area. Thaniya Road in Sala Daeng is full of hostess bars and similar services exclusively catering for Japanese men, be they expats or sex tourists. The Japanese men next to my table were talking about the high quality of each of their companions, praising the bar owner for whom the women worked.
When I left the restaurant, I saw the same men smoking outside, while the women waited behind them. There were also two children, aged between 8 to 10, trying to sell bunches of roses to the smokers. Disturbed while enjoying his after-dinner cigarette, one of the men yelled at the children, "人生そんなに甘くないんだよ!ま、わかんねーか、ははは [Life is not that easy! Well, you don't understand, do you? ha ha ha]." The children were showing no sign of discouragement. As I walked away glaring at the man, he was turning his back to the young flower sellers, as an indication of "No more communication and get lost."
I don't know what he meant to say with his comment of "you don't understand!" Was he referring to the children's ability to understand Japanese or the general harshness of life? (If the latter, he's clearly completely wrong). Either way, I found his comment disturbing but also demonstrative of a common phenomenon associated with intercultural communication. In an intercultural context where people assume that their language is not understood, they can potentially say something very hurtful or immoral, that they would not have otherwise said. They believe they can get away with it because their meanings won't be understood, and hence they won't risk a negative assessment of their personality or potential retaliation. The absence of a shared 'language' and 'culture' in intercultural contexts then becomes some kind of license to insult, without consequence. This is a false assumption, of course. Receivers of hurtful comments do very often understand them through other channels of communication, be it body language, facial expression, and tone of voice, just as we can very often understand warmth and friendliness of individuals, with whom we do not share a common language. The man's comment was a regrettable example of this assumption, embedded in the immorality of his laughter at the vulnerable and his lack of concern for small children working on the street close to midnight.
I am not suggesting he should have bought the flowers, as this is generally considered as a factor that keeps child labour an attractive option for helpless or abusive adults. But several questions come to mind: Would he have acted the same manner if the children were Japanese or in the company of someone with Japanese proficiency who could defend them? Did the other men remain silent because they thought the kids didn't understand Japanese or did not want to spoil the fun night with the women? The children, however, perfectly got the message – they are not wanted and treated like dirt – even without any proficiency in Japanese. Some forms of communication work perfectly well in the absence of a shared language.