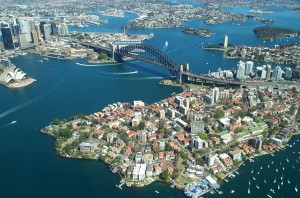 I've recently come to Sydney from Taiwan to pursue a PhD in Applied Linguistics under the supervision of Ingrid Piller and Kimie Takahashi. They've encouraged me to write up my experiences as a new international student in Sydney in a series of blogposts and so here is the first installment.
One of the main reasons why international students pursue higher education in an English-speaking country is to gain high levels of proficiency in English, but after a few weeks in Sydney I'm not so sure how it works. For one thing, most of the new people I meet seem to be from mainland China. Another student from Taiwan I met told me she is concerned about the slow improvement of her English. First and foremost, she had expected to acquire English quickly and easily, but she is not. "I don't feel like my English is any better than it was before I came," she confided. English in Taiwan is a foreign language and interactional opportunities can be fairly limited. However, she came all the way to Australia and surprisingly found herself being in classes where most of her peers are from Mainland China, and she speaks Chinese every day. Instead of English, she finds that she's been learning various dialects of Chinese to build up friendships.
Furthermore, she finds it hard to make local Australian friends at school, despite the fact that she has a very lively, active, and easy-going personality. Interestingly, she is not the first person I've met here, telling me that they wish they had local Australian friends and could experience more of Australian culture. I found myself having the same wish.
Then she told me about another girl from Taiwan, who had been here for only 8 months and had already achieved the magical goal of sounding like a native! "How come?" I asked. The "miracle cure" turned out to be the fact that that girl had a native boyfriend. This anecdote inspired my interlocutor: it gave her romantic hope with the dual purpose of achieving English language proficiency and finding romance. I hope it works better for her than it did for the Japanese overseas students described in Ingrid's and Kimie's research here and here.
Travelling from the Northern to the Southern Hemisphere and struggling with language constraints, I think the pursuit of language in a way reflects some basic needs of humans: being connected to people and place, and being recognized and supported holistically.
References
Piller, I., & Takahashi, K. (2006). A passion for English: desire and the language market. In A. Pavlenko (Ed.), Bilingual minds: Emotional experience, expression, and representation (pp. 59-83). Clevedon: Multilingual Matters.
Piller, I., Takahashi, K., & Watanabe, Y. (2010). The Dark Side of TESOL: The hidden costs of the consumption of English. Cross-Cultural Studies, 20, 183-201.