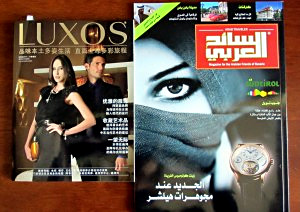 Those of us in the broad area of TESOL often labor under the assumption of the invincibility of English hegemony. Whether they deplore it or exult in it, many people assume that English is on a straight march to linguistic world domination. And many signs point that way, of course, as we have often documented here on Language-on-the-Move (follow these links for examples from Cambodia, China, Germany, Iran, Japan, South Korea, Switzerland, UAE or USA). However, we have equally documented multilingual practices that appear as cracks in the ideology of English triumphalism (follow these links for examples from Bangkok, Berlin, Dubai, Isfahan, Tokyo or Vienna). And there are more cracks appearing.
In the past weeks, I've had the opportunity to re-visit two quite different cities of whose linguistic landscapes I consider myself a longtime observer: Dubai and Munich. Both in Dubai and Munich, I was struck by the ever-increasing presence of Arabic (Munich) and Chinese (Dubai). In Munich, one can now see menus and shop signs in Arabic and much of the official signage at Munich Airport is trilingual in German, English and Arabic. Similarly, the presence of Chinese is expanding in Dubai through shop signs, store guides and service personnel wearing badges identifying them as Chinese speakers. Most intriguingly, in the airport lounges of both cities, I discovered glossy magazines in Arabic (Munich) and Chinese (Dubai) addressed at Arabic- and Chinese-speaking travellers respectively. Both the Chinese-language Luxos (subtitle: 'Your guide to luxury') and the Arabic-language Arab Traveler (subtitle: 'Magazine for the Arabian Friends of Bavaria') are high-end consumption guides with lots of ads for exclusive brands of jewelry, perfume, hotels, clothing or wellness interspersed with infomercials about boutique shopping and luxury consumption.
Neither Arabic in Munich nor Chinese in Dubai are likely language choices given the settlement and migration history of these cities. So, how come they are making their presence felt in such conspicuous ways in addition to the local language (German and Arabic respectively) and the international language English? The answer lies in the fact that Arabic and Chinese are the languages of the biggest tourist spenders in these places: Munich is popular with Gulf Arabs as a shopping and health destination and, according to this SZ report, the average Arab tourist spends 569 Euros per day in Munich. By comparison, the second-biggest spenders, Japanese tourists with 370 Euros per day, seem almost miserly and there are far fewer of them anyways.
Chinese tourists are to Dubai what Arab tourists are to Munich: the most lucrative group. According to one report, in 2011 300,000 Chinese tourists came to Dubai and their combined expenditure of USD 334 million made them the most valuable group of tourists.
In a consumer economy, language is a means to make a profit. As purchasing power shifts, so do language ideologies and English may be starting to encounter rivals after all.