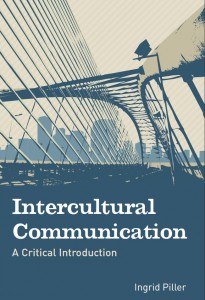 THIRD UK LINGUISTIC ETHNOGRAPHY FORUM E-SEMINAR
Ingrid Piller. Intercultural Communication: A Critical Introduction. Edinburgh: Edinburgh University Press.
Chapter 10: Intercultural Communication in a Multilingual World
When:    30th April – 18th May
Where:   The UKLEF mailing list at http://www.uklef.net/
What:      An email-based presentation and discussion
UKLEF is pleased to announce its third e-seminar. Ingrid Piller will be presenting "Intercultural Communication in a Multilingual World" from her latest book Intercultural Communication: A critical introduction. The presentation is followed by an email-based discussion moderated by UKLEF. The discussion will be kicked off by Aneta Pavlenko, Professor of TESOL at Temple University (Philadelphia, USA).
The discussion is open to all UKLEF members. To become a member, please sign up at www.uklef.net. A transcript of the discussion will be published on the website. Please contact Frances Giampapa  for further details.