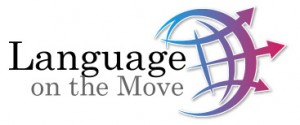 In December and January Ingrid will be visiting universities in Iran and the United Arab Emirates and she will be speaking about her research in the sociolinguistics of multilingualism, language learning and intercultural communication there. She will also facilitate the first-ever Language-on-the-Move workshop at Tehran University. Meet Ingrid at one of the following events!
Language-on-the-Move workshop: Understanding language contact and multilingualism in the 21st century
In this workshop, we will explore language as an object in motion. Specifically, we will ask what globalization and migration mean for a contemporary understanding of language contact and multilingualism. The workshop consists of four parts and it will be impossible to join after the first meeting.
Session 1 is devoted to language ideologies and particularly the language ideology known as the "monolingual mindset," which privileges a view of a homogeneous standard language and renders linguistic diversity invisible. We will explore questions such as: How many languages are there? How can we distinguish between a dialect and a language? What and whom do language names include and exclude?
Session 2 explores the methodological issues raised by an understanding of language as a circulating resource. This session is designed as an overview of the history of sociolinguistics. Additionally, I will share examples from my own research to highlight critical sociolinguistic ethnography. We will end the day by discussing how language questions, observations and interests of participants could be turned into research questions and research designs.
Session 3 will focus on the role of English as the hypercentral language of globalisation. Additionally, this session will serve as an introduction to the work of the sociologist Pierre Bourdieu and will explore a view of language as a market commodity. Session 4 will then move on to language in education. In addition to key concepts such as additive and subtractive bilingualism, we will discuss questions of language education and social justice.
New directions in Intercultural Communication
Intercultural communication research is often predicated on essentialist assumptions of what it means to "have a culture." In this lecture, I will use examples from the intercultural communication advice literature on how to improve communication between "Middle Easterners" and "Westerners" to make the point that "culture is a verb," i.e. an interested discursive construction. I will outline a new research agenda for intercultural communication that is relevant to contemporary social justice challenges in a globalized and transnational world by suggesting a unified research question: Who makes culture relevant to whom in which context for which purposes?
Blokes, Mates, and Wogs: Language and Identity in Australia
In this lecture I will present an overview of Australian English as a case study in language and identity. I will begin by providing a standard variationist account of the development of English in Australia since its inception as a British penal colony in 1788. In a second step I will treat the standard account of Australian English speech, or strine, as an interested discursive construction of national identity. I will show how the idea of Australian English is used to construct what it means to be Australian in two sets of ideologically loaded discourses: namely, consumer advertising and media discourses about immigration. Both these discourses often serve to create hegemonic notions of Australian identity that exclude Aboriginal Australians, migrants from non-English-speaking backgrounds, and women from the imagined nation. I will end by exploring the role of these discursive constructions of identity in the production of the social order in Australia.
Native, non-native and bilingual English teachers: language ideologies in English language teaching
Educational research from around the world has consistently shown that teacher qualifications and teacher experience are central to student learning and good schools. Good teachers make good students! However, in language teaching, particularly English-as-a-Foreign-language teaching, non-native-English-speaking teachers are often burdened with a linguistic inferiority complex. Teacher training, language teaching materials, and the political economy of education often inculcate a sense that native-speaking teachers are superior. In this lecture I will use case studies from East Asia to explore the linguistic ideologies undergirding English language teaching in these contexts. In a second step, I will explore ways to overcome such debilitating linguistic ideologies. How can we turn these discourses on their head? How can we empower "non-native" teachers by reinventing them as bilingual teachers?
Teaching Language, Teaching Culture?
There is an increasing trend towards seeing the language classroom as a vehicle for teaching culture and intercultural communication. In this lecture, I will first explore how the presumed link between language and culture has historically developed in the context of European nation building. I will then explore how that link plays out in contemporary language teaching materials from a range of contexts. Finally, I will suggest ways in which language teachers can engage with culture critically and productively.
How to get published in international journals
Publishing in international English-language journals has become an imperative for academics around the world. At the same time, access to international journals is particularly challenging for early career researchers and researchers from non-English speaking backgrounds and/or those based in non-English dominant countries. In this workshop I will draw on my extensive experience both as an academic author (4 books and more than 100 journal articles) and an editor and reviewer of academic publications. I will share strategies that work and point out common mistakes that lead to rejection. The workshop will be relevant to early career researchers particularly in the Humanities and Social Sciences.