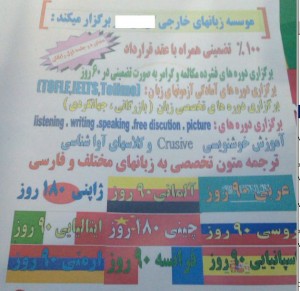 In the past thirty years, Iran's population has exploded from about 40 million to more than 72 million. Such rapid growth has resulted in the vast majority of the population now being under 30 years old with a median age of 26.4. One of Iran's achievements during the same period is the expansion of its educational system so that it has been able to cater to the educational needs of its expanding, young and ambitious population. Yet, brain-drain is one of Iran's most widely recognized problems, although the government is doing all in its capacity to stem the tide of those who have decided to leave the country right after their graduation. Leaving the country, either permanently or for the sake of furthering one's education, continues to be a very popular route. Besides universities in the US, UK, Canada, and Australia, the ones in Germany, Italy, France, Spain, Russia, China, and Malaysia are popular destinations for Iranians.
In this context, where so many people want to leave the country, the private, commercial foreign language sector has been expanding rapidly. Iran in general and my home town, Isfahan, in particular have undergone an unprecedented boom in foreign language learning and teaching. Accordingly, commercial language schools have mushroomed. It has been reported that, besides hundreds of unregistered ones, a whopping 3700 registered language schools are operating across the country.
The phenomenal market growth in commercial language teaching has also increased competition among language institutes and advertising materials for such institutes are a ubiquitous sight. Ranging from broadcast ads, via billboards, to all kinds of brochures and flyers, advertising materials are all designed to persuade even more members of the target group, i.e. Iranian youths, to engage in foreign language learning. In this way, language learning is no longer about education but about consumption and languages become nothing more than consumer commodities.
This typical flyer presents a case in point. I found this flier in Isfahan's New Jolfa district, one of Isfahan's hippest areas frequented by "modern" Iranian youths. The New Jolfa area is a gathering spot for fashionable Iranians to hang out. Consequently, it is also an ideal spot for promoting language schools.
In this flyer, the commodification of language learning is inscribed in the very grammar of the advertising text. For instance, 'courses' (دوره ها) and 'classroom teaching' (کلاس ها) are animated as participants and thus displace human agents such as 'teachers' or 'students.' That means that the 'products' themselves are ascribed roles and attributes that are in educational contexts normally associated with teachers. Modalities such as disappointment, failure, or risk do not even appear; all that is expressed is that 'customers' will receive a predictable, stable outcome. As the flyer has it, success is "100 percent guaranteed" (۱۰۰% تضمینی)!
Language learning thus becomes a product consisting of discrete units, which are separately accessible, and can be bought and sold as distinct goods in the range of commodities available in the market. In such commodified educational discourse, it is the duration of the course that takes on a symbolic significance; one can learn, say, Spanish in 90 days     (اسپانیایی ۹۰ روز)!
Apparently, the market is too competitive and the time is too short to check for typos. Infelicities such as "TOFLE" (i.e. TOEFL), "discution" (i.e. discussion), and "crusive" (i.e. cursive) are by no means limited to the flyer under scrutiny.
Last but not least, the use of flags in such a typical flyer perfectly fits its international and future-oriented purposes. These flags seem to have been intended to foster the link between language learning and mobility and hence to increase the marketing hype surrounding foreign language learning. The more language schools are hyped up, the more difficult it is to resist the urge to "buy" the advertised "products."