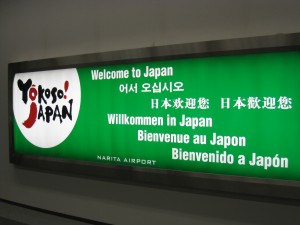 Next week, Tokyo will be the hottest hub of language and gender researchers! Tsuda College is hosting the Sixth International Language and Gender Association Conference (IGALA) Sept 18 – 20, attracting many cutting-edge L & G researchers. Since this is the first time IGALA comes to Tokyo in particular and to Asia in general, and as I am a Tokyo/Yokohama native, I thought I'd share a bit of advance commentary and tips!
To begin with, they couldn't have picked a better place than Tsuda College to host the first IGALA conference in Japan. Well done, the IGALA 6 Organizing Team! Tsuda College was originally founded by Umeko Tsuda, one of the first five young Japanese women to be sent by the Japanese Government to the US to study English and modernity in the late 19th century. Upon return, Tsuda started the first higher education institute for women where students would be trained to become English language teachers. Her aim was to assist graduates in becoming financially independent upon graduation. More than a century later, this idea of the English teaching profession for women, or simply "English as women's weapon" (as we discussed here, here and here), is still very much with us in Japan. Attendees, make sure you visit Tsuda Umeko Museum on campus!
It's not only the venue that is impressive about IGALA, but it's also the line-up of the keynote speakers. We will have the pleasure of listening to Momoko Nakamura, Deborah Cameron and our very own Ingrid Piller and what they have to say about the state of our field. If you want to know more about them in preparation for the conference, take a look at these advance interviews in the Language Teacher (Ingrid Piller, Momoko Nakamura & Deborah Cameron). Overall, the conference program looks great, with interesting individual papers and panels including my own, entitled Working Women on the Move! We'll let you know when and if we get tired of the "on the move" phrase 😉 On that panel, Vera Williams Tetteh, Donna Butorac and I will explore the intersection of language, transmigration and employment in women's lives.
In addition to Ingrid and myself, the Language-on-the-Move team at IGALA will include our guest-blogger Vera, our junior editor Jenny and our fan and PhD supervisee, Donna.
Got a few spare days in Tokyo after the conference? If it's your first time in Tokyo, some must-visit-places include Shinjuku, Shibuya, Harajuku, Shibuya, Asakusa, Roppongi and Akihabara, and information about these places can be found on Unmissable Tokyo, a tourist information website run by another Language-on-the-Move fan, computational linguist and Japan enthusiast, Mike Dowman. I'm heading back to my usual spots, like Shin-ookubo for Korean cuisine, Kabukicho for a 24/7 ramen shop, queer Shinjyuku Nichome for Thai food and my hometown Tsurumi for a yakitori restaurant which shakes like crazy every time a train passes right behind it.
Now, if you are an L & G researcher visiting Language on the Move for the first time, welcome! Gender is something we've been blogging about since we first started this site back in November 2009. Some of our gender blog posts are:
Also check out our open-source gender-related papers available in the resource section: Language learning, gender & identity & Multilingual families! Follow us on Facebook and Twitter for daily updates – our FB and Twitter officers will welcome you all:-)
That's it from me for now. We will keep you posted about our first Language-on-the-Move tour to Japan with live-blogging directly from the IGALA conference!