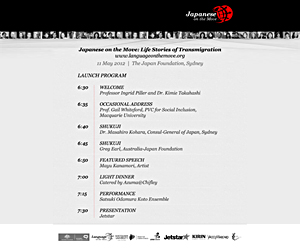 Japanese on the Move, our video exhibition of the life stories of transnationals, is now complete. We celebrated the completion of this journey last Friday at the Japan Foundation Sydney. Japanese on the Move was officially launched by Professor Gail Whiteford, Pro Vice-Chancellor for Social Inclusion at Macquarie University.
The celebration also featured shukuji by Dr Kohara, Consul General of Japan in Sydney and by Mr Greg Earl, Board Member of the Australia-Japan Foundation. Our featured speaker was Ms Mayu Kanamori and she has already blogged her speech here. Additional highlights included a performance by the Satsuki Odamura Koto Ensemble and a raffle of two return tickets to Japan sponsored by Jetstar. The lucky winner was Mr Hiroshi Takei.
Many of our participants, colleagues and friends are on the move and couldn't join us for the celebration in Sydney but you can still join as in cyberspace! To do so, choose one (or more ;-)) of the following options:
Enjoy!
Other Japanese on the Move project resources include the following: