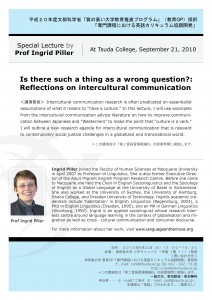 During her September visit to Japan, Ingrid is scheduled to give another special lecture at Tsuda College on September 21. Her talk is part of the COOLL Project, funded by the Ministry of Education, Culture, Sports, Science and Technology. It is open to the public and for further information, see the attached flyer or contact cooll[at]tsuda.ac.jp.
Title: Is there such a thing as a wrong question?: Reflections on intercultural communication
Intercultural communication research is often predicated on essentialist assumptions of what it means to "have a culture." In this lecture, I will use examples from the intercultural communication advice literature on how to improve communication between Japanese and Westerners to make the point that "culture is a verb." I will outline a new research agenda for intercultural communication that is relevant to contemporary social justice challenges in a globalized and transnational world.
During her Japan tour, Ingrid will also appear at the 6th International Gender and Language Association Conference (Sept 18 – 20) and Waseda University (Sept 22).