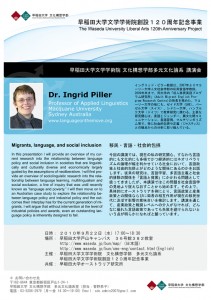 Ingrid Piller is invited to give a special lecture, entitled "Migrants, Language and Social Inclusion", at Waseda University, Tokyo, Japan, on September 22nd. Her talk is part of the Waseda University Liberal Arts 120th Anniversary Project and is open to the public.
Inquiries should be sent to Motoko Sugano at sdc.admin2007[at]gmail.com.
Migrants, language, and social inclusion
In this presentation I will provide an overview of my current research into the relationship between language policy and social inclusion in societies that are linguistically and culturally diverse and economically largely guided by the assumptions of neoliberalism. I will first provide an overview of sociolinguistic research into the relationship between language learning, multilingualism and social exclusion, a line of inquiry that was until recently known as "language and poverty." I will then move on to an Australian case study to explore the relationship between language policy and industrial policy and the outcomes their interplay has for the current generation of migrants. I will argue that without intervention at the level of industrial policies and awards, even an outstanding language policy is inherently designed to fail.