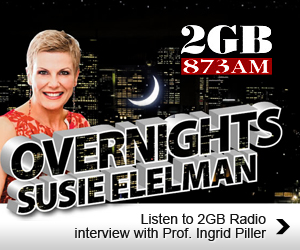 Click the 'play' button to listen to Ingrid Piller in conversation with Susie Elelman as they discuss bilingualism and languages education in Australia. The conversation was originally broadcast on 2GB's Saturday night show on October 06, 2012.
They talk about the best time to start learning another language and the benefits of bilingualism. The most obvious benefit is that you can speak another language and communicate with more people; there are also health and cognitive benefits. They also talk about which languages Australians should learn: we are lucky to have so many languages spoken in the community but we are not using those resources and currently we are not doing languages education very well. Thus, we risk being left behind our multilingual neighbours and trading partners: bilingualism promotes good health and strengthens the social and economic fabric of our society.
They refer to Ingrid's talk about Bilingual Education Matters at the German International School Sydney – a video of that public lecture will become available here on Language on the Move soon.