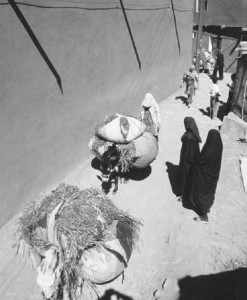 One of the most bizarre experiences I had during my stay in Australia was being asked by a European housemate whether it was difficult to ride a donkey. Huh?! How could I react to this question when on the one hand I have no clue about donkey riding and on the other hand I knew that my housemate's question was an honest question. As he told me, his question was the result of leafing through a book chapter. In order to understand what he was talking about, I asked him for the book's details and dashed out to a library to find it!
In point of fact, what he had in mind was a chapter titled Iran written by an American anthropologist in the four-volume set Countries and their Cultures. The text touched upon various demographic, socio-economic, political and cultural aspects of Iran. However, the written text, no matter how accurate, had been mediated by the images with which it was associated. A picture is worth a thousand words, as the adage goes, and my housemate clearly had remembered the images rather than the text.
Having been born and raised in Iran and having travelled widely across the country, I dare say the pictures seemed rather outlandish even to me, let alone to my housemate! The pictures showed either far-flung villages or people riding donkeys and driving trashy cars. For a foreigner unfamiliar with the country, the association is clear: Iran is a backward place.
As a matter of fact, anecdotes of similar intercultural miscommunication experienced by Iranians in the West are not uncommon. Several friends of mine have told me of being asked similarly misguided questions. Taken together, such anecdotes are evidence of stereotypical views based in media representations.
But why are such backward pictures used to spruce up the text while Iran's modern life as evident in its major cities, where the vast majority of the population live, is totally absent from the pictures? The answer seems to have already been provided by Edward Said. In Orientalism, Said describes the features of the body of knowledge which was produced not only by poets, novelists, or travel writers but also by learned scholars especially in the 19th century. These people almost unanimously represented the Orient as a repository of Western knowledge, rather than as a society and culture in its own right. In this connection, the Orient was described in terms of the way it differed from the West. Eastern countries have often been described in ways which denigrate them, which produce them as a negative image, an 'other'. Over time, these representations have accrued truth-value to themselves through constant usage and familiarity.
The pictures presented in this recent encyclopedia suggest that Orientalist ways of thinking and writing are too established to die out.
Orientalism is not just a mis-depiction of the East; rather, as my encounter shows, orientalist representations are the basis of ways of seeing that inform mundane interactions between "Easterners" and "Westerners." Uncovering the orientalist tropes of texts is thus much more than a hermeneutic exercise. It continues to form the basis of lived experience and daily interactional challenges "Easterners" have to contend with.
Reference
Beeman, W. O. (2001). Iran. In M. Ember & C. R. Ember (Eds.), Countries and their cultures, Vol. II (pp. 1057-1077). New York: Macmillan.