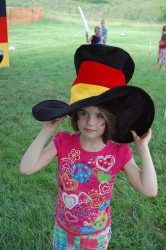 I have frequently wondered how my experiences speaking German in public with my two daughters, 7, and 5, whom my wife and I are raising as English-German bilinguals in the United States, would be different if we were raising them as English-Spanish bilinguals.
In fact, I've reflected on how this experience might be different in a personal language journal I started writing when my oldest daughter was four and which has now reached nearly 200 single-spaced pages in length.
Reading through Ingrid Piller's book, Bilingual couples talk: The discursive construction of hybridity, today inspired me to write about my thoughts on how various combinations of bilingualism and racial and class identities are received in the U.S.
In the book, Piller notes that some of the English-German bilingual couples whose experiences she discusses and analyzes, explicitly address the comparative privilege they have as whites speaking German to their children in public in the U.S., as opposed to the indirect and, sadly, often direct mistreatment of those who speak Spanish to their children in public.
German is 'wonderful'
In seven years of speaking German to my daughters, well, five years to the youngest one ;-), I have never had an experience in which someone has admonished me for not speaking English to my kids in public. Indeed, the direct responses I have received have always been positive, a 'Is that German you're speaking to your kids? That's wonderful, great, etc.'.
This positive feedback is often followed by an expression of regret: 'I wish my parents, grandparents, had spoken German to me'. (In fact, I, myself, was raised monolingual in English, though my father is a first-generation German immigrant).
We do get some surprised looks when I speak German to my daughters in public, typically from children.
I don't know exactly why this is, but I'm guessing this reaction – similar to the positive reaction I've gotten from adults — has quite a bit to do with the fact that I'm a middle class white male and both of my daughters are white.
Young children – in particular white children – appear to expect a white father to speak English to his kids. When they hear him speaking another language, they're surprised in part because they expect this language scenario mostly, possibly even only, from parents and children who are not white.
German-English vs. Spanish-English bilinguals
Interestingly, many children who take the time to move beyond a surprised look to interrogation then assume I'm speaking Spanish to my daughters. I wonder what difference it would make to them if indeed it was Spanish rather than German — and what difference it would make to the adults who praise our German-English bilingualism.
In fact, I'm pretty certain I know the answer in the case of many of the adults – they wouldn't be praising us, though I will say that I bet they would be thrown off by seeing a very Anglo-Saxon looking male speaking fluent Spanish to two also very Anglo-Saxon looking daughters. This, because the anti-Spanish sentiment that runs so deep in the U.S. is very clearly wrapped up in racism.
Defying stereotypes
I enjoy these moments in which we defy stereotypes and, through our public practice, show the world that multilingualism has many faces.
Paradoxically, I'm also troubled by these moments as well. This is because I know that at the same time we're undercutting monolingual ideology via our very public multilingual practice, we're contributing – via dominant social readings being projected onto us — to deeply embedded and even racist beliefs that hold that certain forms of multilingualism are "better" than others, namely, those in which white, Anglo-Saxon looking parents speak a non-threatening language such as German (or French, or Swedish, or Dutch – take your pick of any Northern European language) to their children, as opposed to those in which non-white parents speak a 'threatening' language (Spanish in particular) to their children.
It would be interesting to see what sort of reaction a parent who doesn't fit the standard Anglo-American racial profile speaking German to his or her children might get from some of the same adults who praise German-English bilingualism vis-à-vis a white family such as ours.
At the very least, I'm betting this would throw a lot of people off. In fact, these moments — in which dominant ideology and stereotype are challenged and unsettled by direct observation and experience — are precisely what the U.S., and the world, needs more of.