[tab:English]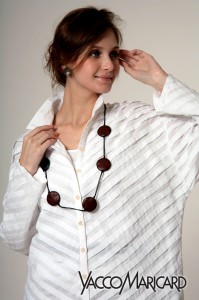 It is not every day that I – a postdoc in applied linguistics in Australia – get an email from a representative of the fashion industry. The email was from the UK and the inquirer wanted to know if we could collaborate.
"I've been following Language on the Move for some time. We understand that you are going to Tokyo in three months and we want to sponsor Ingrid Piller's outfits at her plenary talks."
It turns out that the inquirer was Sei Watanabe, a textile expert and UK-based director of YM Fashion Co.,(UK) LTD, a Japanese fashion retailing company. With headquarters in Harajuku, Tokyo, the company has four brands and operates shops throughout Japan, in England and Thailand. Their factories, where most of their products are made, are located in Thailand and Shanghai. According to Mariko Watanabe, the CEO of YM Fashion Co., LTD, this global operation necessitates that the company 'gets' intercultural communication.
"Between our customers and fashion advisors at shops and the management, employees and designers in more than four countries, success in our multinational operation is all about getting communication right."
In fact YM Fashion annually hires an expert to train their employees in communication skills. Workplace communication is something that Ingrid and I have been exploring in our research. Mariko sees a collaborative opportunity between our world, i.e. the academic field of applied linguistics, and their world, the fashion industry: two worlds that take communication seriously but that rarely speak to each other. In her view, Ingrid's work embodies YM Fashion's concept – creativity and originality beyond the boundaries of gender, culture, race and age.
As a way of beginning our collaboration, Ingrid was sponsored to wear Yaccomaricard, their representative brand and the most popular line of their products, at her plenary talks at the International Language and Gender Association Conference and at Waseda University. In addition, we have been invited to visit their factories in Thailand in December, 2010, to discuss a possible research project on intercultural communication in the workplace. We will keep you updated right here on Language-on-the-Move.
Language on the Move & Yaccomaricardo – it's guaranteed to be a fashionable collaboration!
ファッショナブルにコラボ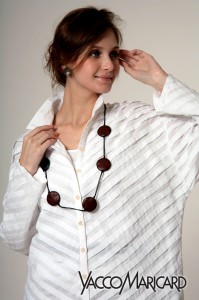 ある日、ファッション界から一通のメールが届いた。オーストラリアの大学で学者として働いている私としては非日常的な出来事。メールはイギリスからで用件は「コラボレーション」との事だった。
「Language on the Moveをいつも楽しく読ませていただいています。3ヵ月後に東京にいらっしゃるという事ですが、イングリッド・ピラー教授の貴重講演をスポンサーしたいと考えています。」
質問者は繊維エキスパートでありYM Fashionマネージャーの渡邊 青さん。原宿を拠点とし、4つのブランドを国内外でプロジュース。店舗は日本全国にあり、イギリスとバンコクでも数多くのショップを展開している。 さらにYM Fashionの商品の多くはバンコクと上海にある工場で生産されている。社長である渡邊まりこ氏は、YM Fashionのグローバルオペレーションには「多文化コミュニケーションが鍵」と語ってくれた。
「私たちのお客様、ファッションアドバイザー、マネージメントスタッフ、従業員そしてデザイナーは4つの国にいます。このようなグローバル事業にはコミュニケーションがしっかり出来るという事が大切なのです」
毎年コミュニケーション講師を招くなど、従業員のワークプレース・コミュニケーション力向上に力を入れている。イングリッド・ピーラと私自身も近年「ワークプレース・コミュニケーション」の研究を進めてきた。渡邊社長は今まで接点のなかった「応用言語学界」と「ファッション界」に新しいコラボレーションの可能性があると考える。さらにピラーの研究テーマはYM Fashionのコンセプト -男性、女性、若者、老人、人種など、そのすべての枠を超えて、人間の美しさと楽しさを創造する-が反映されているという。
コラボレーションの皮切りとして、ピラーはYaccomaricardをまとい東京で行われた貴重講演を行った(ジェンダー・言語国際学会:早稲田大学文学学術院120周年記念事業)。また共同研究企画会議をタイで12月に行う予定が決まった。今度のYM Fashionとの対話はLanguage on the Moveで報告するので是非楽しみにして頂きたい。
Language on the Move x Yaccomaricardo:ファッショナブルなコラボになると確信している。