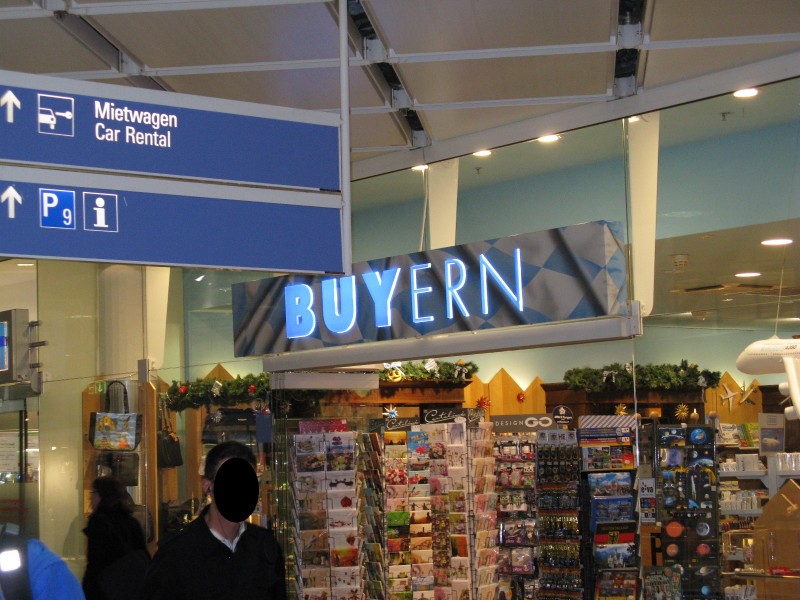 Installment #2 in the mini-series on multilingual signage
Much of the signage that can be found in contemporary public spaces is commercial. It is a form of advertising, and language choice in commercial signage such as shop names is a good indicator of the values associated with a particular language. The basic idea is that the connotations of the shop name are such that they will attract potential customers. From a multilingual perspective, the interesting signs are those where a language other than the default choice – the official language of a particular place – is used. In much of the non-English-speaking world, English signs, of course, hold pride of place and English has come to be widely associated with modernity, progress, globalization and consumption. Whereas languages other than English mostly index ethnic stereotypes, English indexes a social stereotype (as I discussed in detail in this review article). What that means is that English is not used to conjure up some archetypal American or British quality in the same way that French or Italian are used to imbue a business with some stereotypical French-ness or Italian-ness.
The association of English with consumerism is perfectly encapsulated in this shop sign at Munich airport. Munich is the capital of Bavaria, one of the states in Germany's federal structure. The German word for "Bavaria" is "Bayern" and the first syllable of "Bay-ern" is pronounced just like English "buy." The shop name "Buyern" is thus a neat word play. Bavaria's national color blue against the background of the national rhombus pattern reinforce the national association. As someone who grew up in Bavaria and had a certain reference for the national symbolism instilled in my childhood, my gut reaction to this sign was one of dismay and offense.
English in this sign clearly bears no relationship whatsoever to any English-speaking country. Rather, it associates English with the national symbolism of a non-English-speaking country, Bavaria, and presents that nation as an object of consumption. The products for sale in this shop are all kinds of souvenirs: Bavarian souvenirs, German souvenirs, European souvenirs, airport souvenirs, Christmas souvenirs (I took the picture in November last year) and other stuff whose only purpose it is to be bought. Buy!
English makes this place – just like pretty much any other airport – a non-space of gratuitous consumption, gratuitous travel, and gratuitous national imagery. English is the language of globalization, that's for sure; but it's the globalization of nothing, as George Ritzer tells us. Does that make English the language of nothing? Non-people in non-places buying non-things in non-service encounters and using a non-language?!
Piller, I. (2003). ADVERTISING AS A SITE OF LANGUAGE CONTACT Annual Review of Applied Linguistics, 23 DOI: 10.1017/S0267190503000254
Ritzer, G. (2007). The globalization of nothing 2 Thousand Oaks, CA, & London: Sage