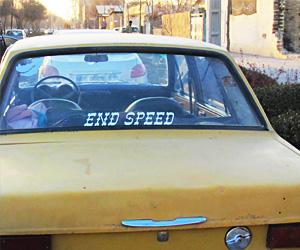 "What is the meaning of the choice of English in the slogan on this car?" That was one of the questions I asked the participants in the 2nd Language-on-the-Move Workshop I taught at the University of Isfahan. I had come across the car featuring the slogan "END SPEED" on the outskirts of Isfahan during an earlier visit. "End" is used in Iran to indicate a superlative and means 'ultimate' or 'great.' "End speed" is thus not an imperative, as one might think, but a descriptor: 'superfast.' When I asked the question, I had, of course, my own interpretation of the language choice in this slogan ready. I thought that the choice of English in this slogan signified that the author-driver of the car wanted to project an ironic and postmodern identity and that the choice of English served to further highlight the obvious discrepancy between the content of the 'superfast' message and the reality of the somewhat dilapidated car. The workshop participants agreed with my interpretation and added some further information: they felt quite certain that the driver was a man in his 20s or early 30s, who paid a lot of attention to his appearance and styling, including a carefully cultivated 5-o'clock shadow. They also highlighted the fact that the car was a Paykan, the prototypical Iranian car that most Iranians feel quite emotionally attached to. So, they thought that the irony of the slogan went beyond the actual car and could be taken to mean that the country as a whole was 'superfast.'
While the participants and I thus broadly agreed in our interpretation of the slogan, some participants actually rejected the premise of my question that the slogan was in English. They argued that the slogan might look English but was actually Persian because "end" in English doesn't mean 'ultimate,' 'super' or 'great.' Rather the word has been borrowed into Persian and acquired that meaning there. On consideration, I have to agree: the premise of my question was indeed mistaken, based, as it is, on an assumption of linguistic discreteness. The question of whether the slogan is in English or Persian is ultimately pointless and I fell into the same trap that Bourdieu berates linguists for:
To speak of the language, without further specification, as linguists do, is tacitly to accept the official definition of the official language of a political unit. (Language and Symbolic Power, 1991, p. 45)
I'm grateful to all the workshop participants for that reminder and for the many stimulating discussions we had during the 2nd Language-on-the-Move Workshop at the University of Isfahan!