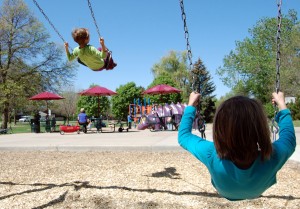 I've written before that I've never had an experience in which someone responded negatively to me when I speak German to my daughters in public here in the United States.
Yesterday, on an elementary school yard, that changed.
My daughters, 7 and 5 years old, were rushing around the playground speaking, and yelling, German to one another — as they do pretty much 100 percent of the time — and I was shouting something to them in German as well when a young boy, about eight years old, on a swing nearby said:
"What did you say?! Why are you speaking Spanish to your kids!?"
Confusing Spanish with German
This isn't the first time that a child had asked me why I, or my daughters, are speaking Spanish, when, of course, we're speaking German, though, amazingly, I've never had an adult ask me this.
I politely explained we were speaking German, not Spanish.
Pretty soon, the little boy and my two girls were playing with each other. The three of them were, of course, speaking English to one another, as my daughters are bilingual in English and German. And they were definitely having fun together. However, each time my daughters shouted something to me in German and I shouted back to them in German – on a playground you often have to shout just to be heard  😉 – the little boy asked, "What did you say?" I, or one of my daughters, translated for him every time he asked, and he responded each time with an, "Oh, okay."
'No one can understand you'
After about 20 minutes of the three of them playing together, the boy, who'd returned to the swing where we first encountered him, asked me, "Why are you speaking German to your kids when no one can understand it?" I admit that I could feel my blood pressure rise just a bit. This question was a bit confrontational, though I understood that an eight-year-old wouldn't have intended it this way.
I took a deep breath, and said: "Because we're raising our daughters to be bilingual. I believe it's better to be able to speak two languages than just one. I think it's always better to be able to do more things than fewer things."
The boy didn't respond, just kept swinging on his swing.
English only in our house
About a minute passed. Then, the young boy, who was Caucasian and who was now sitting motionless on his swing, said, "My mom told me if I learn Spanish or German at school I'm not going to live with her anymore. She said, 'We speak English in our house!' "
In fact, the boy's mother wasn't there – he was being watched by some after-school teachers. And, given what the boy had just told me, I was glad his mother wasn't there.
A lot of thoughts were coursing through my head at this point. I thought about Bourdieu's notion of distinction and the ways in which it captures some, though not all, of the social interplay that was going on here – I'll admit to working hard to separate myself and my daughters from monolingual Americans and monolingual ideology.
I also thought about how all of us, even self-identified anti-elitists who would accuse me of thinking I'm better than others because I'm multilingual are inevitably caught up in a hierarchical notion of 'better'. After all, the self-identified anti-elitists themselves believe it's better to be part of the (monolingual) mainstream.
German only, 100 percent of time
I thought, too, about the social questions and tensions raised by me speaking German only to my daughters 100 percent of the time – I really do speak only German to them all of the time, no matter what the situation, though I, and they, will often translate for friends, family, or, in this case, even strangers.
Finally, I thought about how grateful I was that my daughters are enrolled in a language immersion school where they don't have to face the anti-multilingual criticism this boy, clearly influenced by his parents, and other kids would surely be directing at them every single day.
In fact, I'm 100 percent sure my daughters would not be speaking German to each other still if they were enrolled in a traditional, public monolingual English school, which I view as the most crucial social entity in the annihilation of lived, everyday multilingualism of the sort that we've managed to practice for the past seven years.
But the role of monolingual public education in the elimination of linguistic diversity in the United States is grist for a future blog entry 😉