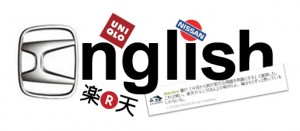 In Japan, "English as official language policy" (英語公用語化) is currently trending on social networking sites. Two large Japanese corporations, Rakuten and Uniqlo, recently announced the adoption of English as their official corporate language, and everyone is talking about it. It all started last month when Rakuten's CEO, Hiroshi Mikitani, told the media that the company – the biggest online shopping site in Japan – would adopt English as its official in-house language by 2012. The new language policy is part of their strategy to expand into the global market. Shortly after Mikitani's announcement, Tadashi Yanai, President of Uniqlo – the sixth largest fashion retailer in the world –followed suit, also announced the switch to English by 2012. Nissan, led by their French-Brazilian CEO Carlos Ghosn, had already had English as its official language for some time.
The level of public debate about these corporate language policies is amazing and is characterized by two contradictory positions: pro and contra English-as-an-official-language at work in Japan. From the perspective of Nissan, Rakuten and Uniqlo, English is obviously the language of globalisation, an indispensable tool to increase their competitiveness in the global market. Mikitani asked rhetorically: "If our workers can't speak English, like those workers in Europe, how can we compete in the global world?" It makes perfect sense to many debaters, and some are even suggesting that it is an opportunity to consider adopting English as the national language.
Not everyone is so enthusiastic, of course, and the other side of the debate is led by scholars such as Masaki Oda and Tatsuru Uchida. Uchida is concerned that the English-Only approach would demoralise workers and have a negative impact on the overall quality of the workforce. The English-as-corporate-language policy might create an environment where competent workers without English competence are being marginalised or even dismissed from their jobs, while incompetent workers with good English proficiency are being promoted.
The strongest criticism, however, has emerged not from academia but from within the corporate world. Takanobu Ito, the CEO of Japan's giant carmaker Honda has labeled the imposition of the use of English in workplaces within Japan simply as "stupid." He argues that to be competitive in the global market really means to be strategically flexible in all areas, including language use. As a successful corporate leader with ample international experience, Ito's words, too, carry a lot of weight with the public. As soon as he made his statement, uncountable tweets and blog posts gave a thumbs-up to Ito's stance with a common expression of "ホンダ△" (Honda △ – the triangle symbolizes the upward status of Honda).
Those opposed to the imposition of English as the corporate language within Japan complain that Uniqlo and Rakuten are now focusing less on the needs of their Japanese workers and customers. The idea that Japanese workers would converse in English among themselves in shops in Japan has predictably drawn a lot of ridicule as in this example:
妻が「今日から我が家の公用語を英語とする」と宣言した。これは怖い。楽天やユニクロ以上の怖さだよ。俺はもうずっと黙っているしかないな。(My wife just declared "We will adopt English as our official family language from today". I'm scared. This is scarier than Rakuten and Uniqlo. I will just have to remain silent from now on).
I chuckled at this tweet but cannot help wondering whether the fear to be condemned to silence in English is not very real for some of the workers at the companies with English as their official language.
So far, the two sides of the debate are still battling it out and it remains to be seen who will win the argument. However, one winner has already emerged: the English language teaching industry. English-as-corporate-language policies may well turn out to be an unexpected savior for the industry with its shrinking market share.