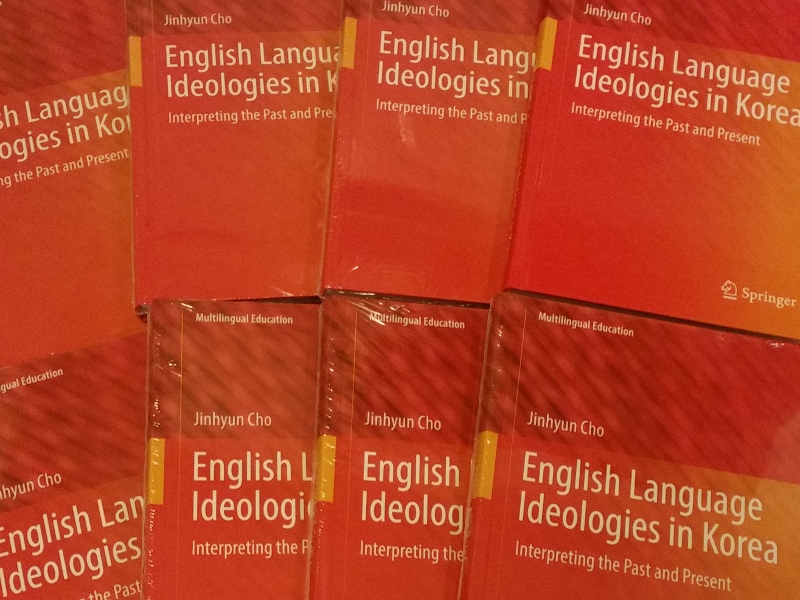 We all have childhood dreams. Mine was to become a writer, which, unfortunately, was not well received by my parents because it is a "hungry" job. Due to the absence of parental support and my own doubts about my creative abilities, the dream slowly slipped away and remained as a childhood dream for a long time. Would you believe that the dream has finally come true? I have become a published writer with the publication of a book entitled English language ideologies in Korea: Interpreting the past and present in August 2017.
The initial impetus for the book was sparked by my own language journey. At the age of 23, I decided to become an English-Korean interpreter, a glamorous bilingual, who would be respected for her English language proficiency in Korea caught in the phenomenon of "English fever".
However, after many years of hard work, when I had finally achieved the dream of becoming a professional interpreter, I found myself perplexed and puzzled as a gap emerged between the pre-held dreams and the realities in the field.
And that's where English language ideologies in Korea: Interpreting the past and present starts: the book critically examines the contrast between dreams and realities of English in the context of "English fever" in Korea from both historical and contemporary perspectives. It explores two overarching questions: why is English so popular in Korea? And, why, despite the enormous popularity of English, is there such a gap between the promises and realities of English?
In order to explore the first question of why English is so heatedly pursued in Korea, I conducted historical analyses of the development of English in Korea with English-Korean translation and interpreting as a key site of inquiry. The historical relevance of English-Korean translation and interpreting is well illustrated in the fact that English arrived in Korea for the first time in the late 19th century in order to educate English-Korean translators and interpreters. English was important for the embattled Korean government of the time as they actively tried to strengthen relationships with the U.S. in order to curb its ambitious neighbours with predatory designs. Korea's continued economic, political, and security dependence on the U.S. throughout the modern era has added more power and prestige to English, which has evolved to serve as a form of cultural, economic, social, and symbolic capital with class mobility as a key driver.
The second question of why there is such a gap between dreams and realities in English is examined from the perspective of contemporary English-Korean translators and interpreters, who represent the most engaged and professional learners of English in Korea. The social reputation of the profession as perfect English speakers and glamorous cosmopolitans provides an ideal site to explore the contrast between expectations and experiences in English, which was investigated from multiple perspectives including commodification, gender, and neoliberalism. Internal conflicts relating to English language learning and use are illustrated through interview data analyses, in which the aspect of English as an ideological construct shaping and shaped by speakers' internalized beliefs in and hopes about the language is highlighted.
By exploring the gap between dreams and realities in English, I endeavoured to make sense of what appears to be an irrational pursuit of English in Korean society. Making huge sacrifices to learn the language only seems a "rational" act in Korea because English has been firmly established as a language of power and prestige as documented and explored in English language ideologies in Korea: Interpreting the past and present. It is my hope that the book highlights the importance of examining local particularities involved in the construction of particular ideologies of English, which is often approached from the monolithic perspective of "English as a global language".