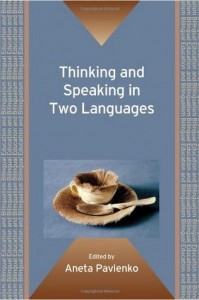 Over the past year or so I've started to make my daughter do daily arithmetic practice in German. My reason for doing so stems from my dissatisfaction with the ways in which rote learning and memorization as a learning style are neglected and disdained in Australian education. By contrast, I am convinced they have an important place in a mix of learning styles. As my daughter doesn't want to do additional math practice outside school, I had to package this little project as a form of German practice. German is not a school subject and she therefore agrees that additional practice is necessary for her to keep up.
Practicing addition, subtraction, multiplication and division may seem language-neutral. However, in the course of practicing them with my child I've discovered that they are not and that the different word formation patterns of English and German number words partly defeats my purpose of achieving greater automaticity. In contrast to English number words, German number words between 20 and 100 are constructed by saying the second digit first (e.g. "twenty-one" = "einundzwanzig" = lit. "one-and-twenty").
As far as the times tables are concerned, I'm pretty sure my daughter has now two different systems in her head – Einmaleins in German and times tables in English. I've timed her a couple of times responding to a set of simple multiplications in English and in German. In German, she's consistently performing the same task a minute or two faster. The fact that she's faster in German (learnt at home by rote) than in English (learnt at school by exploration) establishes the superiority of rote learning for this particular task (well, really, I always knew that …).
However, the more intriguing observation is that while she's doing well doing arithmetic problems on paper, she's lost her automaticity in reading numbers out loud, particularly when it comes to 3-digit numbers. 3-digit numbers in English are basically formed by reading the first digit first, the second second and the third third, i.e. 438 is "four-hundred-and-thirty-eight." In German the order is digit 1, digit 3, digit 2, i.e. 438 is literally "four-hundred-eight-and-thirty."
As a matter of fact, I've discovered that I'm suffering from the same affliction: I've lost the automaticity to read out numbers in German "without thinking" and when I hear numbers in German I have to visualize them or "translate" them into the English order in my head.
When I reflect on this experience, it's easy to see why formerly popular opinion would have been so focused on the negative cognitive effects of bilingualism. In the first half of the 20th century academic and popular opinion agreed that bilingualism was a social ill and that, wherever possible, young minds should be shielded from the confusing exposure to more than one language. Nowadays, of course, the pendulum has swung wide in the other direction and academic and popular opinion agree that bilingualism is a wonderful thing and carries all manner of cognitive, academic, creative and social benefits.
I've always found this ideologisation of bilingualism irritating but hadn't understood how it has stunted our ability as bilingualism researchers to actually formulate a productive research agenda on the interrelationship between bilingualism and mathematical learning, for instance, until I read Aneta Pavlenko's new edited volume Thinking and Speaking in Two Languages. I will explain why the study of bilingualism and cognition is such a new field in my next blog post but in the meantime maybe someone wants to venture a guess?
Aneta Pavlenko (Ed.) (2011). Thinking and Speaking in Two Languages Multilingual Matters