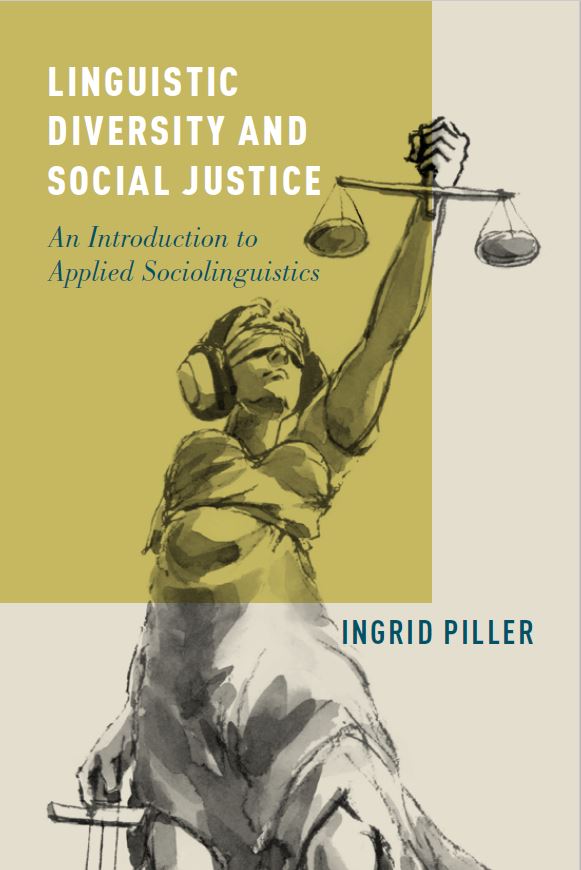 Linguistic Diversity and Social Justice has won the 2017 annual book prize of the British Association of Applied Linguistics.
Although I wasn't able to attend the conference and award ceremony in person, my inbox has been filling up with congratulatory notes since the announcement of the prize last Thursday. I'm deeply grateful to all well-wishers and it is a good reminder that – although there is only one named author – the idea of individual achievement is a way of seeing particular to our time and culture.
In addition to the work of the author, there are the obvious contributions such as academic sources: these I referenced and attributed, as is common academic practice. There are also the obvious debts of gratitude that any author incurs: to teachers, students, colleagues, friends and family. These I thanked in the "Acknowledgements" section of the book although I actually had to say that they are too numerous to mention individually because any list of individual "thankees" was bound to leave out many more names than I could include.
Beyond these obvious contributions, there is a more fundamental sense in which individual and group achievement are intertwined, as I explained in another book, Bilingual Couples Talk. There, I pointed out that, in the Native American languages of the Pacific North-West, there is no equivalent for the English words "author" or "composer". This is a tidbit of linguistic information I discovered from listening to music by the rock band Song Catchers. During their performances, the musicians explain that words and tunes are there in the community to be caught. They argue that music is not "composed" by an individual but "captured" from existing tunes. We can think about research and writing in the same way: a book is not only "authored" by an individual but presents a collection of words and ideas that circulate in a community. It is therefore good to see when a particular "catch" resonates with the community from which it springs: the fact that Linguistic Diversity and Social Justice has won both the 2017 BAAL Book Prize and the 2017 Prose Award in the Language and Linguistics category suggests it does.
The key idea of Linguistic Diversity and Social Justice is that understanding and addressing linguistic disadvantage must be a central facet of the social justice agenda of our time, characterized as it is by heightened migration and globalization and their blow-backs, heightened xenophobia and nationalism.
Language is an important aspect of our social position and the way we use language – be it in speech, in writing, or in new media – can open or close doors. For sociolinguists this is, in fact, old news. It has long been known that speakers of non-standard varieties are frequently deprived of equal opportunities. However, our understanding of the relationship between language and inequality in the highly linguistically diverse societies of the early 21st century is less systematic. Linguistic Diversity and Social Justice aimed to fill that gap and to provide an overview of contemporary research into the intersection between linguistic diversity and social justice.
The second aim of the book was to put linguistic diversity on the map of contemporary social justice debates. Engagement with social justice focuses principally on disadvantage and discrimination related to gender, race, ethnicity, sexual orientation, religion and age. It is extremely rare for "language" to feature as a basis on which individuals, communities or nations may be excluded. However, if we do not understand how linguistic diversity intersects with social justice and if we are unable to even recognize disadvantage and discrimination on the basis of language, we will not be able to work towards positive change.
Social justice has been thought of as the master virtue that undergirds all others since ancient times. In The Republic Plato put forward a view of justice as being fundamental to all other virtues, arguing that it is only by overcoming institutional injustice that it will be possible for other social and individual virtues to flourish. The understanding of social justice adopted in Linguistic Diversity and Social Justice draws on the work of the philosopher Nancy Fraser and conceives of social justice as constituted along three dimensions, namely, economic redistribution, cultural recognition and political representation. The book therefore pursues three principal lines of inquiry: First, an exploration of the relationship between linguistic diversity and economic inequality; second, an exploration of the relationship between linguistic diversity and cultural domination; and, third, an exploration of the relationship between linguistic diversity and imparity of political participation.
The focus is on linguistic diversity and injustice – how linguistic diversity relates to economic inequality, cultural domination and imparity of political participation – because our ideas about justice are formed by the experience of injustice. This is a pragmatic approach that is not concerned with "perfect justice" or "transcendental justice" but is focused on seeking solutions and exploring alternatives to existing problems and injustices.
To read more, make sure to look up Linguistic Diversity and Social Justice. If you don't have your own copy yet, there is a chance to win one, as we'll celebrate the award of the 2017 BAAL Book Prize to Linguistic Diversity and Social Justice with a Twitter give-away: original tweets including the hashtag #linguisticdiversity published between now and October 09 will enter into a draw for two copies. So, go and get tweeting about the relationship between linguistic diversity and social justice! Follow @Lg_on_the_Move